In a region known for its natural beauty and cultural mix there is a place with a unique charm. An organic farm, self-sustaining and concerned about the environment: Argovia. The landscape, its rivers, its unique architecture, the mixture of European culture and the Indian Tradition, are the result of this extraordinary resort located in the Sierra Madre of Chiapas. The philosophy is focused on caring and respecting the surroundings and that visitors have an unforgettable experience while learning about the environment and its importance in daily life.

Hotel Amenities
The concept of the resort features providing guests personalized attention. It allures guests by the resorts extraordinary nature, its flora and fauna and its spectacular views of the mountains and the coast. Certified by Quality Seal Tesoros de Chiapas, the resort offers a unique and comfortable experience.

The onsite gift shop, Diversificados Argovia, S.A. de C.V. is a 100% Mexican enterprise, offering original products from Chiapas certified with several conservation and organic seals. The shop offers a great variety of products Argovia such as the Arabica Coffee 100% Organic, and eatable products, manually produced such as:
- Star fruit Marmalade
- Chile Chiltepín marinated in vinaigrette
- Chile Pepita
- Cardamom Seeds
Additional fresh products such as bee honey, vanilla, ornamental products, exotic flowers (heliconeas), anthuriums and an extensive variety of ornamental plants and palms are also available.

Guests enjoy the extensive swimming pool, enjoying the garden and landscapes, while soaking in the refreshment of the pool and its decks.

Guest Accommodation
All guest accommodation is uniquely designed to mix comfortable lodging with the beauty of the surrounding environment. Four different categories of lodging are available:

Cabanas
Located at the coffee plantation hill, cabanas offer comfort for two people. The style of the Cabins are a reminder of the traditional wood homes in the region which offer a "terrace", king size bed, ventilator, mini bar, coffeemaker, bath with shower and hot water.

Casitas
Three small casitas offer comfort for up for four individuals, accommodations via two beds and two sofa beds, ventilator, mini bar, coffeemaker, bath with shower and hot water.

Bungalow
With its own garden, the bungalow offers the privacy and comfort you're looking for. The suite has a kitchen, two bedrooms, living room, dining room and two bathrooms with shower and hot water.

Rooms and Suites
Rooms and Suites are comfortable and cozy, complete with a bedroom equipped with ventilator, mini bar, coffeemaker, bath with shower and hot water. Three rooms are located next to the main house known as "Casa Grande" and have an spectacular view to the garden and are equipped for a incredible stay.

Resort Dining
Tierra de Café - one of the two onsite restaurants, was born of a mixture between tradition, hospitality and an innovative spirit. Discover an oasis of colors and flavors, with a unique menu based on Mexican fusion cuisine. The food is prepared with a delicious variety of natural ingredients, including fruits, species and fine herbs cultivated at the Finca; using strict hygiene procedures for your satisfaction and safety.

Bamboo Bar & Cafe
Enjoy the bar complete with an open terrace, the perfect place to have a cup of coffee or any other drink while enjoying the outdoors. This is a great place to spend an afternoon surrounded by family or friends; a nice, private and relaxed place.

Agrovia Spa
The Spa was built to create a comfortable and relaxing atmosphere for guests. Comfortable facilities will help you relax, including areas such as massage rooms, resting area and an indoor pool. Encounter a place where you can disconnect from the outside world and indulge in taking care of both mind and body. A variety of treatments are available, including massage and other body treatments, all intended to recover health and keep the mind and spirit in harmony.

Unique to the resort is the offering of a Temazcal, a traditional indigenous steam bath ceremony. The ceremony signifies a communion with nature, a place of reflection and purification of the spirit. It also has vast benefits for both health and physical beauty. Indulge in this special treatment during your stay at Agrovia Finca Resort.
Inquire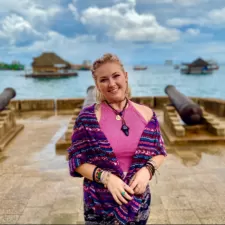 We Love to Talk Travel
Call
1.800.344.6118
or
Chat Now
The trip might have been the absolute best of our lifetime (thus far). We particularly want to commend our guide Peter in the Guilin area-he was so incredibly attentive, energetic, enthusiastic-and absolutely dedicated to ensuring that our meals were 100% vegetarian.
Jack Charney