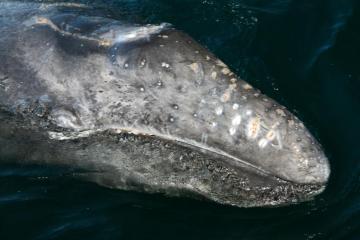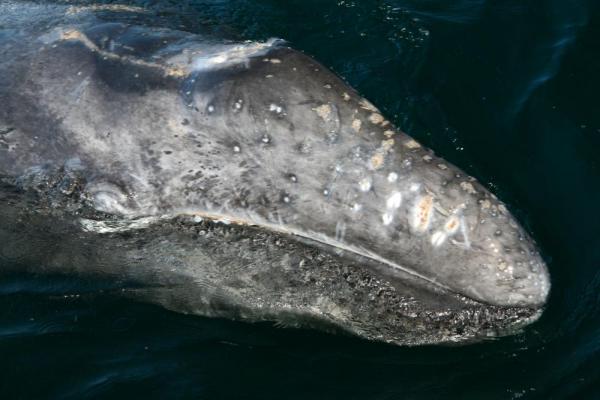 We had come to Baja a few times before, but always to do the typical touristy things - deep sea fishing was our most "adventurous" activity we ever planned. We never had been whale-watching in Baja. Mom has always had a special place in her heart for whales, and always makes us take the half-day tours when the opportunity arose. So this was for her. Thanks to her, we all saw things we never thought would be possible on this trip!
We had booked a two night package on Magdalena Bay, where we would camp on the beach and go out twice a day for whale-watching. Our guide Marco picked us up early in the morning, and told us we were the only people in this group. We had a private trip! We headed across the peninsula to the Pacific side where we boarded a covered panga and sped across the bay to our camp. I use that term lightly. This camp was pretty spectacular! There were half a dozen or so safari-style wall-tents lined up on the beach, along with a large kitchen tent and dining tent. Our camp cook was waiting for us with a hot lunch and a warm smile. All the food was phenomenal, and included a nightly happy hour complete with appetizers!
We boarded the panga after lunch and sped out to la boca, or the mouth of the bay. We quickly spotted a spout or two, and Antonio was great at seeing them before we did, getting safely close to them and just waiting. We must have had a dozen or more grey whales around us and there were spouts and tales every direction you looked! After all the other day-trip boats headed back for the evening, we got the show of a lifetime! The whales were in that part of the bay for breeding, and we saw it all - literally! The males help each other position the female, but all we could see were several whales thrashing around and around on the surface, at times just a few yards from our boat. Even Marco had never seen anything like it!
The next day we went to the same location, but nothing could top the day before. We did see tons more whales and even saw them trying to mate again! After another delicious lunch, we took a short walk across the dunes to the other side of our beach, just to see the great big Pacific! We then decided we wanted to see a baby whale, since that is why all those grey whales are in Magdalena Bay this time of year. Unfortunately the babies were nowhere to be seen. An hour or two of wandering the shallow bay, Antonio decided to take us back out to la boca. It did not disappoint! We saw whales breaching, diving, and just playing around in the bay. That night, Antonio and Marco surprised my dad with a birthday cake! There is something special about eating a homemade birthday cake while camping. We celebrated with cocktails and a delicious desert.
Our last morning, we woke early to get another shot at finding a baby whale. We headed out and after a little searching, we came across some activity in the shallows water. We approached very slowly and sure enough, it was a mother and a baby! The baby was about haft the length of our boat, and it was curious! The mother kept circling between us and the baby, essentially herding it away from us, but after a few passes, she seemed to decide we were safe. We turned the boat to idle, and just drifted with the whale and her baby. She was so curious! She kept approaching our boat, lifting her head up to get a better look - at times just a foot or two from the boat. Marco said it was ok to let her touch us, as long as she approached us. I put my hand in the water and splashed it around. She approached several times but couldn't quite make the connection. I was concerned that we were too close to the whales, and teaching them to approach and have no fear for boats could be dangerous for her life, but Marco assured us that the scientists actually want the babies to be comfortable with boats.
After nearly an hour of playing with the mother and baby, we quickly headed back to camp to pack up our stuff before being taken back to civilization for the night.