We are halfway through our vacation and we have spend the better part of two days doing nothing.  Well actually we have been doing a lot of relaxing which is exactly what we wanted.  Knowing the kids would enjoy the beach and pool as much as anything "special" we could arrange, we try to take advantage of them both every chance we get.
When we first arrived, we couldn't wait to get our toes in the sand.  Unfortunately we didn't make it to the beach until almost sunset but what a place to end the day.  Both kids were ecstatic to have the largest sandbox they have seen at their finger tips.  And the waves are just icing on the cake.  I hadn't really planned on all of us getting soaked the first time we felt the warm ocean water but with two young kids, it is inevitable.  Grahm is not quite sure what to think with the water coming and going.  He is curious and excited about it at first but then realizes it isn't fun when the waves take the sand out from under his feet.  He also got knocked down by one wave and then he decided that was enough.
Carter on the other hand, can't get enough.  He is so excited to finally be on vacation and playing in the water.  He and his dad have a contest to see how many waves they can jump without getting too wet...guess who wins!!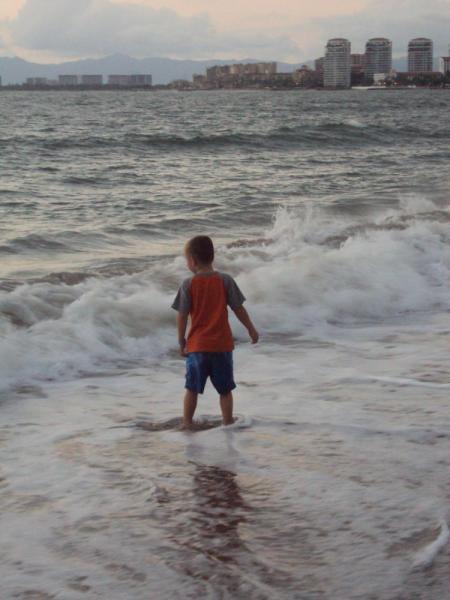 We are so excited to spend the next two days relaxing and playing in the sun.  Armed with plenty of sunscreen we hit the beach first thing.  Equipped with shovels and buckets it is easy to make a sand castle and bury each other.  The boogie board also provides a fun way to take a dip.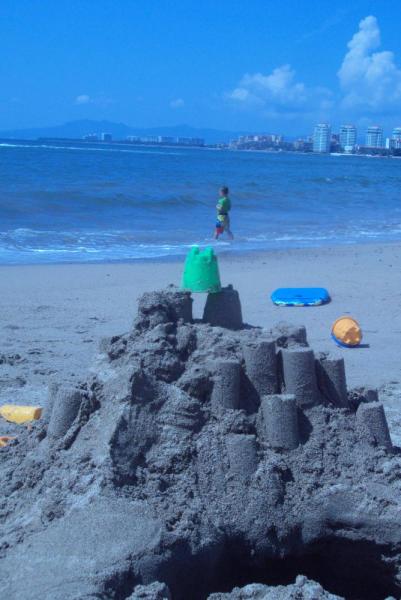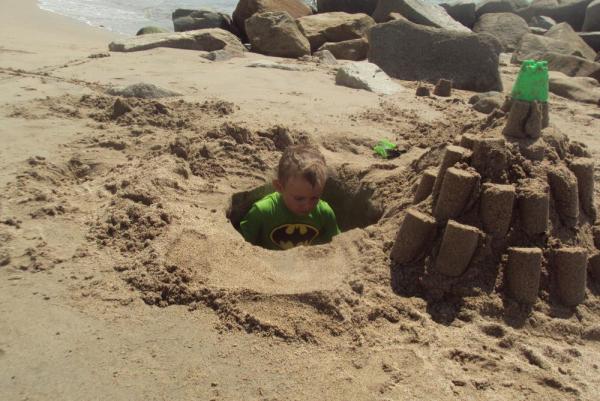 Being the smart parents we are, it is only logical to swim after the beach.  It was a sure way to get whatever sand the shower on the beach missed.  The sun didn't hit the pool until mid afternoon which was perfect when the sun got a little too hot.  The pool was also perfect for the kids as it was zero entry so we didn't have to be in the pool holding them the entire time.  We also get a chance to practice our swimming skills.  Both boys do great with mom, dad and grammie encouraging them to back float, doggy paddle and dunk their heads.
With staying at a place with all the comforts of home and more, we take advantage of the condo as well.  We take time everynight to watch the breathtaking sunset on Banderas Bay.  We try to make most of our meals at the condo as well.  It was easier to have food on hand for the kids anytime and we saved money as well.  I was surprised at the kids' williingness to eat rice and beans, chips and salsa and tortillas and cheese.  Don't get me wrong, we also made pizza and mac & cheese.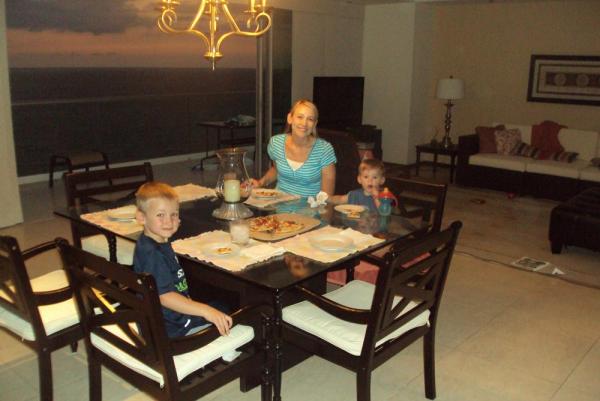 And what would any vacation be without a little down time, laundry and Sunday night football!!  Overall, renting a condo on the beach with a zero entry pool, a grocery store a block away, a balcony to watch the sunset, a DVD player for the kids and a stove was the best vacation decision we made!