Measuring close to the size of Texas, Myanmar is the second largest country in all of Southeast Asia and is divided into four distinct regions by its topography. The Arakan Yoma Mountains in the West run along the strip of coast line with the Bay of Bengal. They are bounded by the plains in the central region which then give way to the Shan Highlands in the East. Lowlands in the south consist of a vast network of canals and are the site where 9 of the countries rivers empty into the Bay of Bengal. These fertile wetlands are used for growing rice. The highest point in Myanmar is Hkakabo Razi which stands to 19,295 feet. The country orders with China in the northeast, India to the northwest, and with Bangladesh, Laos, and Thailand.

More than 50% of the country is covered by forests, and 9 main river mouths are formed in the south, the ending point for a massive network of river canals including that of the Irrawaddy and Sittang Rivers.

The largest city is Rangoon, with 4.5 million people. Two other large cities are Mandalay (the former capital), and Nay Pyi Taw, the current capital as of 2005. Both of these cities hold just over 1 million people. The total country population is estimated at just over 55 million.

Want to Go?
country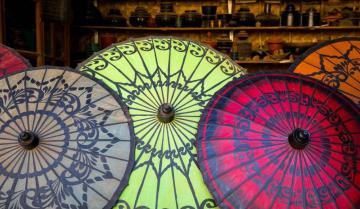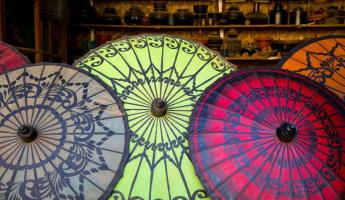 continent