The people and culture of Myanmar are the result of centuries of influences from various ethnic minorities and outside foreign influences. Ancient Burmese culture has been heavily influenced by neighboring Buddhist Thailand and China, but also is a product of British colonial rule, Indian cultural influences, and a heritage passed down from the Mon people. The language likewise reflects a mix of origin from various ethnic minorities and outside influences, and the education system has largely been crafted after the British system.

Religion

More than 80% of the Myanmar culture follows Theravada Buddhism. Shwedagon Pagoda in Yangon is largest and most famous. Many local people take turns to bathe the Buddha and pray here. Kanbawzathardi Palace and the Museum in Bago are also important cultural destinations dating from the 16th century. Other religious beliefs found inMyanamr include Hindu and indigenous animism. Island, while it is present in smaller pockets, has not really taken hold (largely due to political and military oppression experienced during the 20th century).

Dress and Music

Traditional garments worn are the Longyi, which is a sarong type garment worn by both men and women. For Business occasions, men where a Manchu Chinese jacket over an English collared shirt. Many people in the larger cities where more modern 'western' clothing.

The musical traditions in Myanmar are one of pride for the Myanmar people. Traditional music typically includes an orchestra (or hsaing waing) and the Mahagita, which is a collection of songs. Pop music also dominates the current music scene. Dance in Myanmar consists of dramatic, folk, and village dances. Dance is heavily influenced by the styles in Thailand, though they do have unique components such as fast-paced and energetic movements with an emphasis on poses. Myanmar literature is heavily influenced y Buddhism, with a main classic being the Jataka Tales.

Cuisine

Myanmar cuisine is heavily influenced by Indian, Chinese and Thai cuisines. Mildly spicy in taste, the Myanmar people use limited amounts of spices. Typical meals are commonly composed of meats and curries, complimented with soups, steamed rice, fermented fish sauce, and vegetables for dipping. Unique 'sides' include Indian style pickles and pickled vegetables. Fish sauce and shrimp paste are commonly used in dishes along with chickpeas, lentils, and tamarind sauce. Ethnic cuisines are also prominent, such as Shan cuisine, and Indian and Chinese cuisines are readily available in urban areas. A popular national dish is mohinga, composed of rice noodles in a fish soup. Salad made of pickled tea leaves is also popular. Most people in Myanmar eat with their fingers, although the use of Western utensils and chopsticks is becoming more widespread. Indian breads like paratha, naan, and rice noodles are also common additions along with or instead of rice.

Want to Go?
country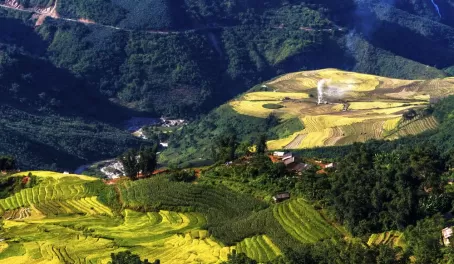 continent