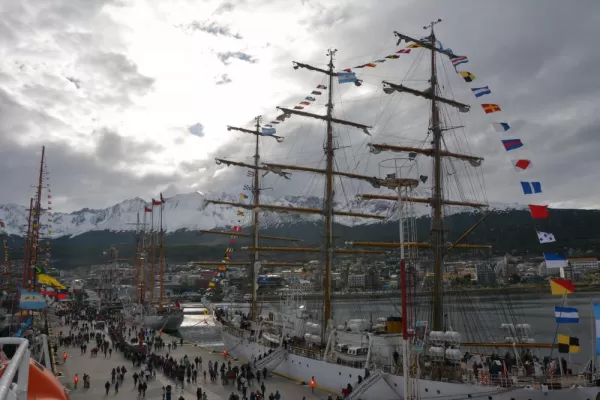 We boarded our Antarctic vessel, One Ocean's Akademik Sergey Vavilov, at the Port of Ushuaia on March 16.  The port was hosting a long ship regatta the same weekend, so we traversed the length of the pier amidst throngs of spectators and sailors.  Each ship sported lines of flags and the festivities only added to our mounting excitement.  At the very end of the pier waited our ship, snow white and solid, a worthy vessel for our Antarctic expedition. 
Our first night at dinner, we sat at a table with Ari Friedlander, a cetacean scientist conducting research on board the ship.  He asked everyone at the table what they most hoped to see during our adventure.  When the question reached me, I answered, "I'd like to see a blue whale."  Ari replied, "I think you need to pick something a little more realistic, that's going to be a tough one to fulfill!" 
The second day on the formidable Drake Passage, I was taking a nap or "taking a moment" as One Ocean says, and over the loud speaker our Expedition Leader Boris shouts "Two blue whales have been sighted at 1:00!"  I've never woken up and gotten out of bed so fast in my life.  I grabbed two jackets and my hat and ran up to the observation deck.  I didn't see anything for about fifteen minutes, but continued to hang over the starboard rail and stare hard at the sea.  A giant spray of mist came shooting from the surface, the ship turned and started in the whale's direction.  We then all ran across to the port side, and for the next 45 minutes we craned our necks as the two whales, a male and a female, chased each other through the water.   Ari explained that this behavior is called "charging", where the male chases after the female and is the only time you will ever see a blue whale's body come out of the water.  At one point, they were only 100 feet from the ship, and one huge, dark blue and gray back would surface and then dive, one after the other, doing circles around the ship.  Their bodies, even just the small portion that came above the surface, were enormous.  I later turned to Ari and said, "It never hurts to dream big!"  What an incredible start to our trip!