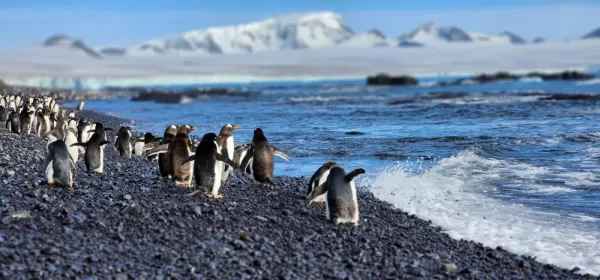 Feb 2, 2023
Today we have a beautiful shining day waiting for us in the Weddell Sea. It definitely looks and feels different out here. More icebergs float by, and huge large tabular icebergs can be seen every which way you look from the bow. It is no wonder the explorers had such a difficult time in this sea in particular.
We've been told we will get this day only in this area. At Brown Bluffs, we go ashore and get to really spread out in the area. The Brown cliffs are eroding all over the glacier nearby. We climb up to have a look and go for a walk on the glacier. Paulina, the geologist on the expedition staff, shares a bit about the various kinds of rock we can see and what caused them. After this, we wander around to look at the various adelie penguins on the island. Here there is an adelie and a gentoo colony and they seem to mix together in their interactions on the beach. We spot as well Weddell Seas lounging around. Amongst them, are the petrels and skuas, which all seem to be very active around here. As we are continuing back, we hear that a leopard seal has killed a penguin in the water. We travel out by zodiac and by the time we get there, we see various seabirds fighting over the carcass in the water. It is a fascinating site to watch. Next, we sail around some of the large icebergs out hear, and spot penguins atop many. How they get up there I do not know, but it is such a hilarious site.
As we cruise onward deeper into the Weddell Sea, we spot orcas off our stern and stop the ship to admire them. It is quite difficult to spot orcas, so we feel lucky with the visit. Next, we land at the Naze, a spit of flat land off James Ross Island. Here we again see abundant fur seals, many of whom are quite active. We are also able to climb high to the top and spot fossils in the rocks. We have a bit of a scavenger hunt seeing how many fossils we can find as a group atop the gorgeous scene. The Naze offers some of my best photos of seals as well, as many are varied colors and quite unafraid of us.
This evening we enjoy a debrief. We also prepare for what will be a rocky cruise back through Antarctic Sound, with the ship listing quite a bit and swell expected all evening.