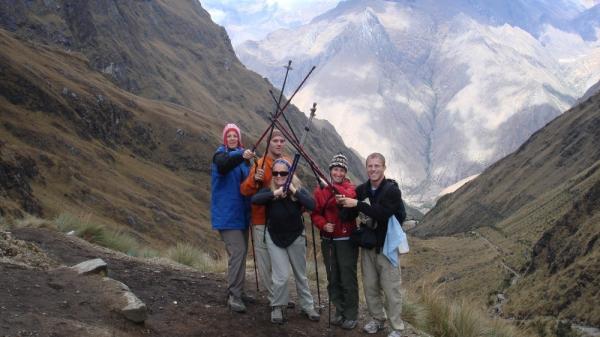 A hardy hike deserves nothing less than some hardy food -- and on our
Inca Trail treks
you'll get it; sometimes with little extras that leave a big impression.
For example, last time I was
traveling in Peru
my husband was celebrating a birthday during our trek. Surprise -- a cake and candles were presented at his birthday dinner. Another personal touch the cook added en route was freshly picked avocado that was growing wild in the region. And each morning, our wake up call included hot coffee or tea served at our tents. A bit of a peace-offering for the early-morning rise -- but it worked.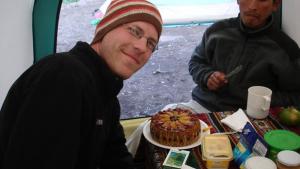 In other words, prepare to be spoiled.
This is just a sample menu, but gives you a good idea of what type of food and the variety to expect on your
Inca Trail trek
. Vegetarians out there (yours-truly included) don't worry – you are easily accommodated and I promise you won't have to make due with mere beans, bread and butter substitutes (that drives me crazy).
Inca Trail Menu
Day 1
-Snack: Chocolate bar, dried fruit, chocolate cookie, candies, banana
-Lunch options: Chicken pickled, bread, yucca, sweet potato OR Roast Chicken with salad OR Swiss chard pie with salad
-Tea time: three kinds of corn (grey, chullpi, white), cheese, coffee, tea, cookies, peanut butter and jam
-Dinner: Vegetable soup, Trout Meuniere, mashed potatoes, salad with vanilla flan or apple strudel
Day 2
-Breakfast: Oat with Kiwicha (a super grain like quinoa –think super oatmeal), scrambled eggs and bacon, toast, coffee, tea, cookies jam and butter
-Snack: chocolate bar, chocolate cookie, candies, tangerine and apple
-Lunch: Corn cream, chicken salad, avocado, olives, breadcheese and chicha morada juice
-Tea time: Tequenos rellenos (fried cheese sticks – they are delicious), guacamole, coffee, tea, cookie, peanut butter and jam
-Dinner: Tomato soup with grated cheese, Lomo saltado (soymeat, potato and rice), with strawberry jelly and peaches
Day 3
-Breakfast: pancake with honey, yogurt, granola, milo, coffee, bread, jam and butter
-Snack: orange, cookie, chocolate bar and candies
-Lunch: Macaroni salad with avacado, eggs, cheese, olives and basil with peach juice
-Tea time: pop corn, cookies, coffee, tea, bread, peanut butter, butter and jam
-Dinner: Inca soup (with quinoa), milanesa de eggplant con rice (eggplant and rice) and flan for dessert
Day 4
-Breakfast: Omelet with cheese, coffee, milo, bread, jam and butter
-Snack: red apple, peach juice, chocolate bar, granola bar and candies
-Lunch: Cream asparagus soup, causa rellena (a potato dish with or without tuna), salad and pineapple juice
You'll arrive at
Machu Picchu
with a full belly!
Want to go?