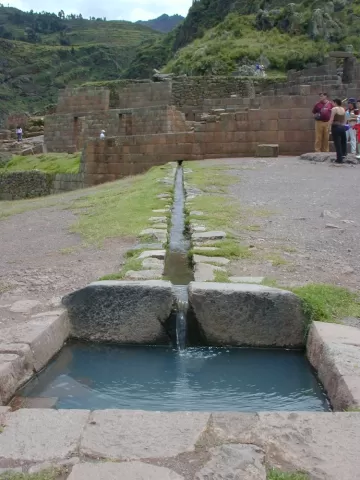 This morning we met with Boris, a prospective new guide for Adventure Life. Boris is young and very tall for a Peruvian, but we quickly learned how much he knew about the history and culture. We decided to walk up to the ruins of Sacsayhuaman above Cusco, which was good aerobic exercise to get those red blood cells pumped up before the Inca Trail hike. Sacsayhuaman is nothing short of incredible. I have seen countless photographs and heard descriptions of the site, and nothing was able to prepare me for the scale - rocks that are 25 ft high, weighing 12,000 lbs, and so perfectly carved that you can't even fit a razor blade between that and its neighboring stone. And this stretched out over acres and acres, and after the Spanish had dismantled much of it!
That afternoon, I asked Boris if he would come along to visit the Mantay house in Cusco. Mantay is a home for really young girls that have become pregnant due to rape or sexual abuse. Their families are not able to support them, their communities have shunned them, and they are left with no place to go. Girls are then brought to Mantay, where they are taught to care for themselves and their babies. They are able to live in the house until they are 18. Most importantly, they are taught fine artisan skills to support themselves after they leave the house (or some stay on to teach and help run the house). I had asked Milagros, our coordinator in Peru, to let them know that I might be coming, and then I called ahead to Lourdes, one of the women running the house, to let her know that I would be able to make it that afternoon.
Mantay is about a 30-minute taxi ride from the Plaza de Armas. Lourdes met us at the end of a gravel road to take us to the house. The girls are in a brand-new, very bright and colorful house that was just finished in 2004. There are currently 10 girls living at the house. The youngest that I met was 12 years old and 5 months pregnant. Lourdes was so excited to have us, and gave us a wonderful tour of Mantay. We saw the leather workshop where the girls were making beautiful purses, shoes, and photo album covers. I bought several coin purses, and other leatherwork from them there, and it was so neat to see how excited they were to have us purchase things from them and to see the great pride they took in their work.
Visiting Mantay was one of the most moving experiences that I had in Peru. Each of these girls had gone through so much in their life before arriving at Mantay, and every one of them seemed so incredibly happy. The babies were so cute and well cared for. Some of the stories broke my heart, but it was also so uplifting to see these girls becoming more empowered and able to take care of themselves and their babies. Mantay is much more than a shelter -- it becomes their family and that was really evident to me. Even after the girls leave when the turn 18, this is where they come back for holidays and fiestas. It was so good to find a place that was really making a difference for a couple of girls at a time - not just giving them a hand-out, but teaching them how to respect and care for themselves. Eventually, the goal is for the house to become fully self-functioning and for alumni of the house to take over its operation completely.