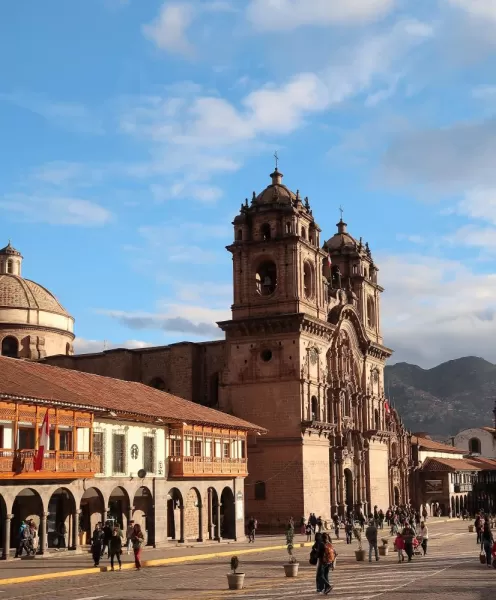 After flight issues, we arrived in Cusco at about 2 PM and were met at the airport by our guide, Alex. Not gonna lie, most bodies are not suited for life at 11,000 feet...
We spent the afternoon touring Corincancha, the former "golden courtyard" palace upon which a Spanish church now sits. We also toured the huge Cathedral at the Plaza de Armas (essentially the old Town Square), also built on top of former Incan ruins. The Peruvians (at least in Cusco) have finally come to terms with their native Incan past mixed with the currently dominant Spanish language and culture. A statue of Pachacuti now sits in the middle of the square - the 9th Incan emperor and the one most responsible for growing the expansive Incan empire.
The sun casts sharp shadows, even in the Peruvian winter, which makes for stark images if you like to take photographs. And there is a lot to take in in Cusco. After a few hours though, your body will suddenly tell you "hey, something is not right". They say only one in ten people actually get debilitating altitude sickness, but I would guess nine out of ten feel a little "off", lightheaded or queasy.
TIP OF THE DAY:
Take it easy your first day in Cusco. That's really the best remedy for altitude sickness. If your schedule allows, even ask to schedule the first day just to chill out before doing any touring and just walk around Plaza de Armas (if staying near there) and watch the crowds. We took Diamox and drank coca tea, which may or may not have helped. But everyone certainly felt better on Day 2 in Cusco. Make sure to stay hydrated, as dehydration can greatly accentuate altitude sickness, and we found a little ginger ale or ginger pills did help with some of the queasiness at mealtime. So take it easy the first day and that should make the rest of your week go that much better.
BONUS TIP:
We had gone to our bank to get some Peruvian Soles. Alas, the rate from our bank was horrible (2.88 soles / $). ATMs are plentiful and, aside from the $5 typical ATM fee, we actually got a decent rate of 3.12 soles/$. Know the rate before you go to make sure you also don't get scalped too much, as many shops will take dollars as well as Soles.
HOTEL:
Hotel Monestario, a Belmond property. Truly amazing - the hotel and the staff. Excellent breakfast and wifi.