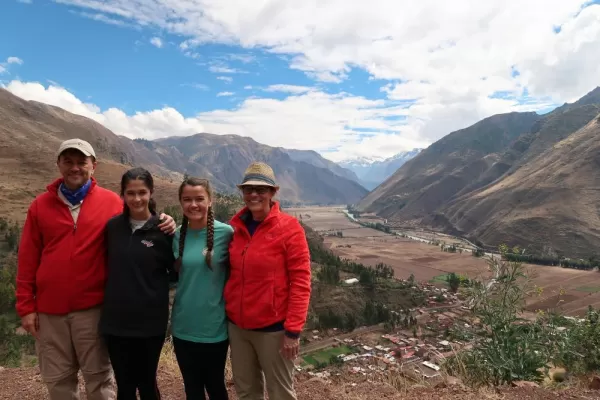 Machu Picchu is the prize, but beautiful sights exist along the way in the Sacred Valley. The salt mines of Maras and the wide vistas of Moray will take your breath away...
To get to Machu Picchu, you first must travel on 4 wheels through the Sacred Valley to Ollantaytambo to catch the train. Along the way there are tremendous sites to see - and a wide variety of sights also. There are many ruins to see, but our guide Alex mixed things up by suggesting a visit to the Chocahuasi animal sanctuary, where we saw alpacas, llamas, puma, condors, spectacled bears, and many other interesting animals native to Peru. The staff spoke great English and we learned a lot. Seeing a condor fly over your head and land behind you is also quite exciting.
From there we went to the circular terraces in Moray, where it is conjectured that the Incans experimented with growing different crops in different micro-climates. The designs and aesthetics of the terraces will have you thinking "this looks like an alien landing site" but even though it's not, it's quite amazing. The vistas around Moray are also breathtaking. Huge expanses of wheat fields with snow capped mountains in the distance. Could be Montana or Wyoming or Colorado - with ancient ruins.
Finally we went to the salt mines in Maras. For thousands of years, a stream of warm salted water has been streaming out of the mountain here. Human hands built structures to channel the water into dozens of large pools, and when the pools are filled, the water is cut off and the sun does it's work to evaporate the water. The result is white bleached salt that is carried up the hill in 110 lb bags. Iodine is added and the salt is sent all over Peru for various uses, including human consumption. Another great site for photographers.
These sights were among the most beautiful and unexpected of what we saw in Peru. This is where you realize Peru is so much more than just Machu Picchu.
TIP OF THE DAY:
If you have the time or can plan ahead, you can visit Moray / Maras by horseback, mountain bike, or ATV tours. A nice change of pace which gives you more time to just take in the beautiful vistas of Moray (weather permitting).
HOTEL:
Aranwa Sacred Valley Hotel & Spa - secluded and quiet; beautiful grounds. Stay in the original colonial building if you can (great ambiance). Wish we had time for a spa treatment or massage, but alas we had much left to do and see.