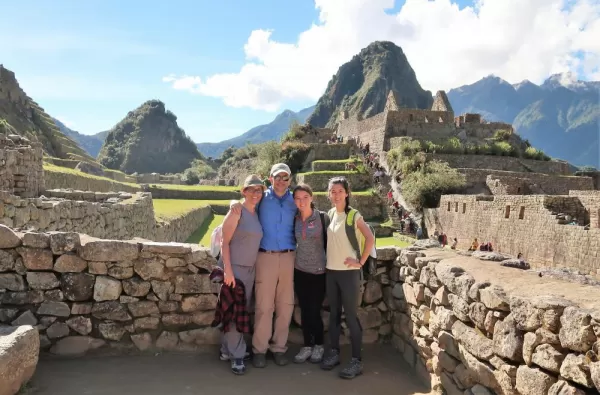 Arrive early for a hike to the Sun Gate - entry point from the Inca Trail and a most doable family hike. Then get your adrenaline rush with a side trip to the Inca bridge...
After overnighting in Machu Picchu Pueblo, we decided to return the next morning for a hike. Machu Picchu tickets fall into one of two sessions - 6am to Noon and Noon to 530pm. It is really hard to fit everything in that you might want to do in a half-day, so plan on returning very early the next morning (we were in line for buses by 630am). You can even try earlier to catch the sunrise, but you will find people almost camped out in a huge line for that first bus up to Machu Picchu at 530am. Clouds can often obscure the sunrise anyway, so be aware of the risk of getting up at zero dark thirty for nothing.
The second day at Machu Picchu is a perfect time for a hike. The most popular one is Huayna Picchu (and the "stairs of death"). Even though this is limited to 400 people a day, it can still feel crowded in high season. Going up takes about 1.5 to 2 hours and coming down, 45 to 60 minutes. Another option (with the same limitation of 500) is Machu Picchu Mountain, which actually overlooks Machu Picchu and Huayna Picchu. This is about a 4 hour round trip and quite strenuous. It is higher, though less vertigo-inducing than Huayna Picchu. Both of these hikes require special tickets at extra cost and advanced planning, as there are guard posts to gate the traffic.
We opted for an option that also worked out quite well for us: the free hike to Inkti Punku, or the Sun Gate. The climb is about 1,000 feet (higher than Huayna Picchu!), but the incline is quite gradual, along the side of Machu Picchu Mountain. There are tremendous views along the way and places to rest. At the top you will see where the Inca Trail hikers enter Machu Picchu after their 4 day strenuous hike. Most will seem in need of a hot shower :-).
If you spend about 20-30 minutes at the top of the Sun Gate, you still have time to make the side trip to the Inca Bridge on the return trip. This is the detour for adrenaline junkies. There are sheer drop-offs along the way, with either nothing or only a low stone wall between you and certain death. It was exhilarating and worth it … just don't look down over ledge and the 2,000 foot drop!
We were able to do the Sun Gate hike and Inca Bridge visit all in about 2.5 hours. Starting at 630am and taking into account the bus lines and the bus rides up and down, we are able to get back down to Machu Picchu Pueblo and have a nice lunch before our 1:37 pm train back to Ollantaytambo. The train and the van ride got us back into Cusco at about 530pm where we would happily spend the next two nights in the same hotel for the first time.
TIP OF THE DAY:
either on your first or second day in Machu Picchu, don't forget to look for a little kiosk where you can add a Machu Picchu stamp to your passport. It's a pretty cool way document your "bucket list" accomplishment. And when your passport expires, either keep the whole thing or carefully cut out the Machu Picchu page.
FUN FACT:
we brought along some jerky as a hiking snack and our guide Alex noted it sounds like "char'qui" the Quechua world for dried meat. Sure enough, according to Wikipedia, "jerky" comes from the Quechuan word, so you've been speaking Quechua all this time!
HOTEL:
Hotel Monestario in Cusco, where our bags were waiting - along with a free upgrade to a suite! (and that was sweeet!)