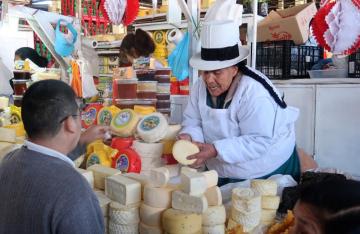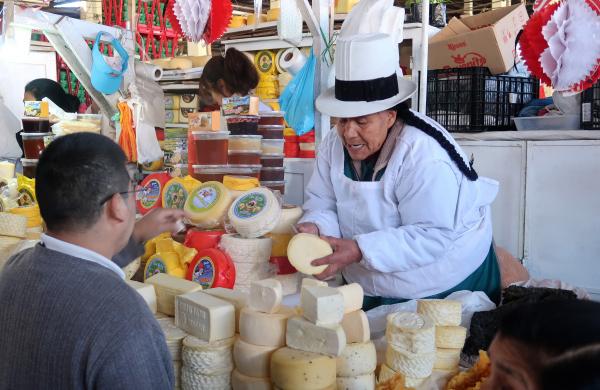 Explore the San Pedro Market and the ruins of Sacsayhuaman, where you will also see Cusco laid out before your feet. End the day with museums and don't forget to try some cuy!
We were able to sleep blissfully late the next morning, when we did not have to meet our guide Alex until 9am. This was to be our last full day in Cusco :-( Alex had consulted with us on what we wanted to do and had the day planned out, starting with a visit to the San Pedro Market.
We jokingly called it the "Cusco Costco", but if you are enjoy the energy, bustle and exoticness of markets, you simply cannot miss a trip to the
San Pedro Market.
There are dozens of ladies in juice stands, all pitching fresh and healthy combinations "sin agua ni azúcar" - without water or sugar. In another section you will see dried fruits, beans and nuts. Or fresh baked bread. Then there is the homeopathic pharmacist who can just as easily give you something for your stomach as mix up a "love potion" or sell you some psychedelic cactus. In another stall you see mummified baby llamas and icons (old pagan Incan rituals coexist with Catholic masses). In any case, we LOVED the market and got some great Peruvian chocolate.
After the market, we toured the fortress of Sacsayhuaman (or "sexy woman" as the gringos say). Massive stones fitted seamlessly into long walls have you wondering "maybe the aliens really did help out"? The site also offers a great panoramic view of Cusco, laid out before your feet below. The nearby llama sacrificial ruins of Qenqo were also interesting.
TIP OF THE DAY:
Baby alpaca is one of the popular shopping items in Peru - whether it be sweaters, hats, scarves, gloves or socks. The fabric is soft and cool to the touch, but extremely warm and light. If you pay cash, you can get the best deal - but you have to be comfortable carrying around a large sum of money. Our guide Alex took us to a shop near Sacsayhuaman that offered good quality, great variety, and reasonable prices. You can negotiate, but don't expect super huge discounts as this is the real deal. In town you may be shown clothing that is 60-80 percent off the prices here, but chances are it's not really baby alpaca (llama or sheep's wool or synthetics). We skipped buying any ticky-tack junk and spend all our shopping dollars on beautiful baby alpaca wool goods (and chocolate).
The rest of the afternoon Alex took us through Cusco for a walking tour where we also saw the Inka Museum and the archeological museum under Coricancha, the church and golden Incan temple we visited on Day 1. The relics were fascinating, but we quickly got tired of old relics (unless they were gold, which holds a strange fascination). I am sure that had we told Alex, we could have toured the chocolate or coca museum instead.
That evening, we celebrated our final night in Peru at the Inka Grill on the Plaza de Armas, where we ate cuy (guinea pig) and drank Pisco sours and chicha morada (Peruvian purple drink). Don't freak out about trying cuy. We had it roasted with rosemary and it tasted like roasted chicken thighs. You just have to pick it up and eat it with your hands to get the most meat off the little bones. It was a fitting final big meal in Peru.
HOTEL:
Hotel Monestario