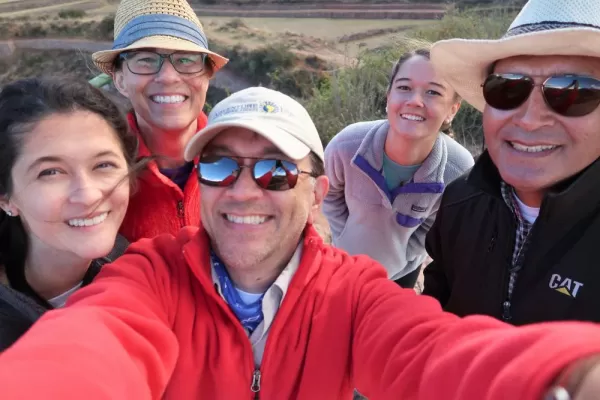 Early wake up, breakfast, then homeward bound. You will realize Peru was not what you might have imagined it would be. It's much more...
Alex and our driver, Gonzalo (how can I forget Gonzalo?) picked us up at the hotel and took us to the airport at 630am for our long, 18-hour journey home. Alex went in and made sure we were all safely checked in before he left. We exchanged hugs and handshakes and thanked him for making the week such a fun and enlightening experience.
We came to Peru to scratch Machu Picchu off our bucket list. What we got was that and more.
I will remember the vistas and circular terraces of Moray. The salt mines of Maras. The views from the train to Machu Picchu.
Amazing Machu Picchu itself. The hike to the Sun Gate (and it's views). The adrenaline rush of the short Inca bridge hike.
And the friendliness, helpfulness and sense of humor of everyone who made our trip so wonderful.
From our driver, to the hotel staff, to the merchants, to our guide Alex.
My old bones may not be up for the Inca Trail hike, but our girls are already planning to do this someday on their own. And it will seem new to them all over again.
Last TIP OF THE DAY:
we planned our travel the week leading right up to July 28, the Peruvian National Day (like our 4th of July). As this came right after the World Cup, we got more local tourists from Lima than usual in Machu Picchu. On July 27 in Cusco, we also heard booming canon sounds starting at 3 AM
(3 AM!!!!)
which turned out to actually be huge firecrackers set off as part of some quasi religious celebration coinciding with National Day. So you may choose to plan your trip around July 28 to see what the hubbub is all about, or you can avoid Peru in any week that contains this date.