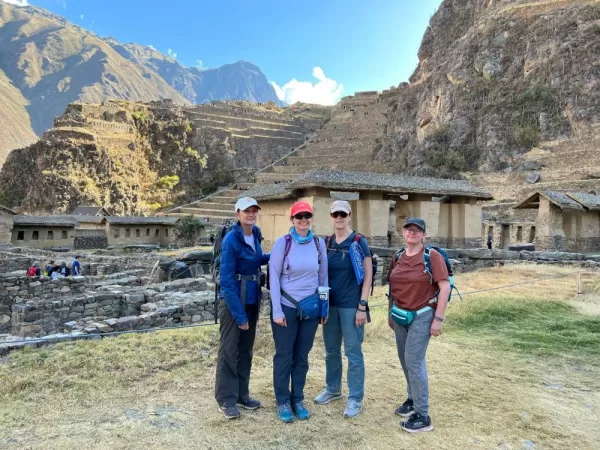 I wake up refreshed and ready for another adventure. This time we will be leaving Cusco and not returning to this hotel for 5 days. Breakfast at San Agustin Hotel was pleasant and filling, we packed our green duffels provided by Adventure Life/Apumayo for our trek as well as brought our day packs. Our additional piece of luggage came with us too and would be stored at our hotel Pakaritampu in the Sacred Valley during our Inca trail trek. Our driver and Ayul were waiting for us promptly at 8am. We load up the van and head off to the Sacred Valley. First stop, Pisac textile market. We are greeted with Guinea pigs in an appropriately sized 4 story wooden house and llamas that we may feed and get a close-up photo while they are eating food out of our hands! Next, we move on to teatime with some of the weavers. They explain traditional dyeing and weaving methods, and I gladly purchased a table runner and a couple of blankets for gifts from them. It was such a treat to have tea with and enjoy the company of the Pisac women who run the market. We hopped back in the van and on to the next stop, Chinchero. The Chinchero Inca settlement highlights a lovely church dating to 1607 in the middle of this historic site. The streets are narrow and steep with water drainage systems cut into the design. It all was so beautiful and functional as well. Ayul pointed to a roof on one of the traditional homes. We saw what appeared with be a weathervane with 2 bulls and other adornments. Ayul explained that this is a Quechua insurance policy. The people who live in the home offer their devotion to mother earth and request blessings of prosperity and safety. It seems that most of the people who live here are deeply religious, a combination of Catholicism and indigenous beliefs. We drove through lovely fields coming to harvest in the valley as the dry season begins. Farmers use traditional methods such as sickles to cut wheat and other grains. We stop for lunch in this rich valley. During our break, we see horses, Andean flickers, and a red backed hawk. Several well fed and friendly dogs lounge about. Ayul offers that we may sit down on the grass and enjoy lunch with a view. We are each passed our own linen bag that contains a vegetable and chicken salad, ham and cheese sandwich, banana, tangerine, and chocolate bar with juice and water to drink. I would come to understand that we would be served a bit larger meal than accustomed to at home, however, these meals are healthy and specially prepared to give us the energy needed for our adventure. I am impressed.
After lunch we walk over to view Moray. It is the most beautiful site, does not look real. Perfect circles in a natural amphitheater rise to where we are standing. Ayul reviews that this area has been restored, however a few hundred feet away is another circular amphitheater that is still an active archaeological site. It is explained to us that Moray was a place to test crops, modify them and acclimatize them. It is genius, much older and more exciting than our sad little European Mendel's pea story from 1865. Who knew, the Quechua people had mastered genetic modification of crops better than any society. Maybe that is why they can boast 240 varieties of potatoes? Ayul mentions that adjacent to the Moray site is a three Michelin star restaurant called Mil. Chef, Virgilio Martinez is the owner along with his wife and family. After hearing about this amazing place, it will be a must do on my next Peruvian adventure! Check it out here
https://milcentro.pe/
We continue to the salt pans of the Sacred Valley. What an adventure to get to this crazy place, our driver was awesome and navigated the steep and narrow path along a mountain that took us to the salt pans. Ayul also called this a salt mine, but pan is a more accurate description of what we see. Over a thousand created salt pools line the side of a mountain next to a natural saltwater spring. The salt is collected in the shallow pools/pans and allowed to evaporate. Once evaporated, the salt may be collected for processing. Three basic salts were identified, Fleur de Sel and pink salt both used for seasoning food and brown salt for industrial use. After our tour, we were able to purchase some of the salt. At the time I was concerned about the weight and getting it back through customs in the US. In hindsight, I wish I would have purchased more. I tried the pink, and seasoned salt and it was delicious. I also purchased some herb laden bath salts which I have not tried yet. I figured I would need a good foot soak after the trek, but my feet did remarkably well.
Our last site tour is Ollantaytambo, a large and most important archaeological site in the sacred valley. At this site the Inca's under Manco defeated the conquistadors. The fortress-like stonework as well as the impressively designed fountains highlighted our visit. Heidi and I climbed the massive stairway to the top with Ayul. It was worth the energy for the incredible views as well as the large granite stones with interesting spacing structure that allows it to survive the frequent earthquakes that occur here. I enjoyed Ollantatambo's famous terraces and grain stores high up in the mountain. We are told that use of alpine storage along with citronella berries and native eucalyptus lining the foundation were able to provide long term storage for grain in times of drought. The examples of ancient aqueduct systems that still are in working order from ancient times are amazing.
Ayul and our driver deliver us to our hotel for the evening. The lovely, Hotel Pakaritampu, an oasis near the Inca Rail. We were taken by the lush surroundings with beautiful flowers. The rooms were well appointed and comfortable. We ventured to the Train station for dinner. The restaurant that Ayul suggested did not serve dinner until 6:30 so we opted for a place off the walkway from the trains. It was small café where we sat outside and had a cute little guard dog resting under our table. He was sure to let anyone who ran or rode by know hurrying wasn't allowed. Heidi had banana pancakes while the rest of us enjoyed some chicken soup. I slept well with sweet dreams of the Inca trail to come.