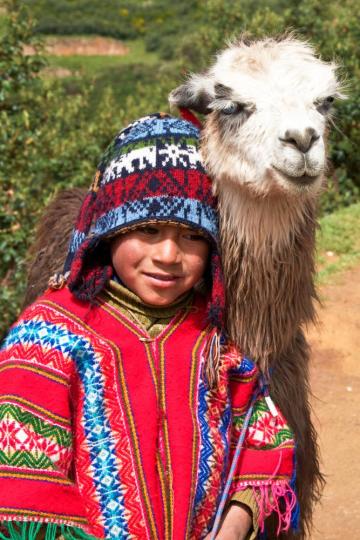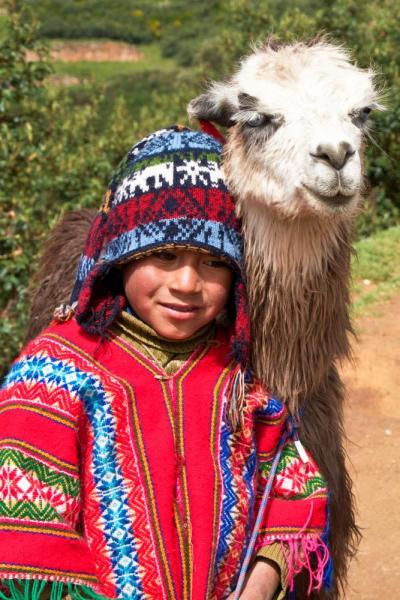 We've finally got our mountain legs and woke up yesterday to take a hike around the periphery of Cusco with our guide, Teddy Romero Mendoza. (I asked him what his given name was, and he said, ''Teddy''). The hotels and restaurants offer copious amounts of coca mate tea, and it really has helped to quell the altitude issues that came with landing at 12,000 feet. We were so lucky that on this tour, because we shared Teddy with one other very compatible couple, and we always managed to get out in front of the crowds.
We toured several very significant ancient sites around Cusco, even more remarkable in some ways than the Machu Picchu. We started at the weaver's village of Chinchero where we were taught the details of cleaning the wool and alpaca fur, natural dying, and backstrap loom weaving. We purchased a gorgeous table runner, completely hand-crafted, from one of the women in the artists cooperative.
The round, Incan terraces of Moray were a sight to behold. I have to say, photos don't do them justice. We also headed to the ruins at Pisac that provided us with an intricate look at the engineering of the Quechua people, including running water! Finally, Sacsayhuaman has, beyond doubt, the biggest boulders that have been moved by man alone to create the fortress and temple that protected the Incans from, other indigenous ''foreign'' invaders. We had a full day, and a great prelude to our trek to Machu Picchu.
Cusco was indeed, the center of the Incan, then the Santo Dominican culture. We had a great conversation that evening with Malku, a local shaman, and got a very distinct perspective on the intersection of the Incan and western cultures. Peruvians, I believe, recognize the potential for tourist dollars from our western interest in ancient cultures, and do a decent job of elevating the mystique and sharing information about the Incans. However, in talking with Malku, an Andean native (Quechuan), I see that views of the ancients are often viewed through very European lenses.
I think we are not in the ''high'' tourist season in February. Although we see plenty of westerners, we are largely out numbered by the locals. Cusco and surrounding environments is THE place to buy alpaca clothing, wall hangings and other goods. And as expensive as the shops around the central plaza can be by local standards, there's no way you could touch any of these hand woven and hand knitted items in the US for these prices. I tried to keep suitcase space in mind as we looked around, but I had to plan on purchasing another duffel.
Internet service in our Cusco hotel has been spotty at best, but finally came in with a vengeance about half way through our trip, and allowed me to continue posting our experiences on the Van Haalen blog (www.vanhaalen.com)