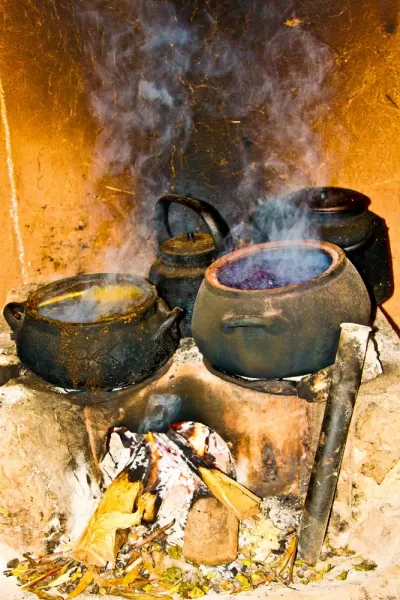 We left Aguas Calientes, the little town at the foot of Machu Picchu, on PeruRail, retracing our path along the Urubamba River back to Cusco. While it wasn't sunny, the weather was dry and warm. We left in the morning amidst a downpour that didn't look as though it would let up all day. The day prior, we had a bit of rain as well, but we were touring an orchid garden in the middle of the rainforest, so the dampness seemed apropos.
People live along the tracks in this raging river gorge, and we passed small schools, cornfields, and Quechua people carrying large bundles somewhere. Peruvians are now quite proud of their Incan heritage, a distinct difference from the discrimination that I observed 40 years ago in Peace Corps. Now, the native language is taught in schools, ancient traditions are practiced by shamans and others, and certainly, the government is putting a boatload of tourist dollars into the reconstruction of the Incan ruins. However, abysmal poverty still exists, largely among the indigenous people, with the same maladies that our poor experience in the US: lack of health care, and inadequate education.
Our train took a stop about a half hour into our journey to wait for the luxury rail, the Hiram Bingham, to come through. The HB comes all the way from Cusco, with white linen tablecloths, crystal glassware, chandeliers, and other amenities. It reportedly costs $500 round trip! While we were waiting, the attractive porters on our train gave us a fashion show of some very high quality alpaca clothing (SOL Alpaca) that is marketed only through Peru Rail. I resisted! We enjoyed a lovely last evening in Cusco, taking in the main square, the lights that sprinkle up the hillsides surrounding the town like a princess necklace, and of course, Peruvian ceviche!
We will be relishing our photos, memories, and new found friends, for decades to come.