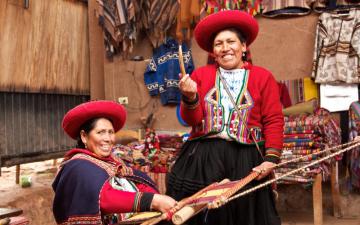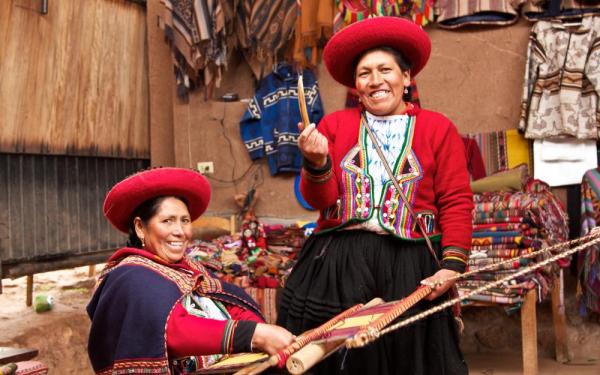 We left Ollantaytambo this morning, where we had spent the night last night after our van carried us there (about 2 hours out of Cusco). We had a quaint little room with wood beam ceiling posts, and a friendly family, who helped us get settled. We listened to the rushing river outside our bedroom window as we drifted off into a deep sleep after all day of hiking ruins between Cusco and Ollantaytambo. Best night's sleep we've had since arriving in Peru.
This morning, we boarded the train that runs about every 2 hours between Ollantaytambo and Aguas Calientes, a small town at the foot of Machu Picchu. What a ride! The train runs for an hour and a half right on the banks of the River Urubamba, through cornfields and huge granite canyons. Teddy told us that river guides do not run that part of the river, and you can see why.
Friends of ours hiked the Inca Trail a few years ago with a guide from Adventure Life, and they were very high on the experience. I think one would have to think carefully about their tolerance for sweat (although Teddy says the 4 of us could easily make the 4 day, 3 night trek). The train lets trekkers off about 26 miles from the ruins, and we could see the trail winding up into the mountains. Maybe another trip?
Once we arrived in Aguas Calientes, we consolidated our 2 backpacks to 1 day pack (with raincoats, sunglasses, extra sweaters) and boarded a bus for a half hour of hairpin turns straight up the side of Machu Picchu. I just figured if it is our time, it's our time; I mean, 2 thousand feet straight down.
As for packing for the day-sweaters and coats--NOT! It was probably 65 degrees or more, and we were hiking constantly. John got some fabulous photos, which our slow internet wouldn't let us post right away. Our companions on the trip, a great thirty-something duo from Chicago, spent the entire day hiking with us.
The Incans built Machu Picchu over 3 generations back in the 1400's and it actually was never ''discovered'' by the Spanish. The demise of the 800-population culture was probably due to syphilis, brought in by their own Quechuan countrymen, probably from Central America. While the locals knew about a city in the clouds, an American by the name of Hiram Bingham brought the site to the attention of the rest of the world back in 1911. (He was actually looking for another site and was disappointed with Machu Picchu- ala, Christopher Columbus?).