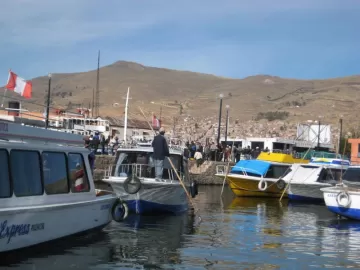 Today is a day for Cusco. What a gorgeous city!
We met up with our guide, Juan Barrios, and the rest of our group and headed out on the town.
Slowly but surely we headed up the hill to sacsayhuaman, some ruins overlooking Cusco. Massive stone, massive walls, but they are seamless. It is an unfinished ruin and what it was meant for is really unknown. Fort? Weigh station along the inca trail? Alien landing zone?
We wander the hills above Cusco, and just getting a taste for Inca ruins. I just wanted a taste of some Cuy (guinea pig), on our way back to town we stopped for lunch and I had to do it. I know my childhood pet is rolling in his little grave, I had to try Cuy. I must say, its not bad, the presentation is better than the taste. A bit greasy and yes, tastes like chicken.
Back at the Plaza de Armas we visited Koricancha and a gorgeous cathedral with some wonderful religious art. It was very interesting to see the difference in style from European religious art. Later in the evening we when to the cultural center to watch some dancers showing the difference in Peruvian dances. We ended the day in great American fashion... beer and pizza (surprisingly good for Peru)!