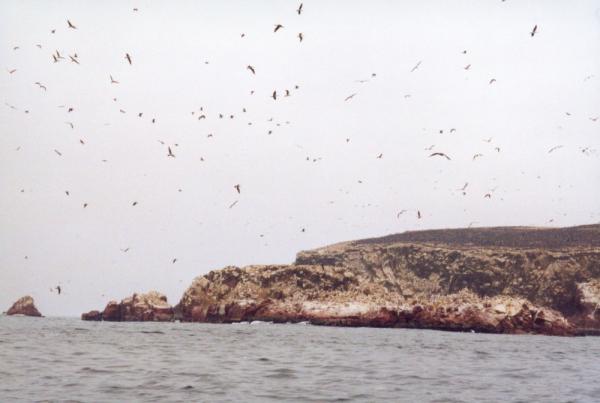 We awoke for the experience I had most been looking forward to, a flight over the enigmatic Nazca lines. I anxiously waited my turn in the small airport terminal, watching a video that described the creation of the lines and various theories of their origins. I excitedly boarded the front seat of the three passenger Cessna and smiled with glee as we coasted down the runway. The lines were incredible, though not as prominent as I had imagined. Huge figures of a monkey, whale, hummingbird, astronaut, and others were crisscrossed with large rays in the sand or seemingly random trapezoidal figures. After a couple of figures my stomach began to churn as the plane bumped up with the wind currents and then made sudden dips down. The pilot recognized my green tinge and kindly handed me a peppermint and opened the vents a bit more. After the 40 minute flight, I couldn't think of anything better than to be back on solid ground once more.
We headed out to the Chauchilla's Cemetery where the dry conditions have preserved dozens of mummies in situ, some still wrapped in burial clothes and sporting long hair. Our local guide described how families of the dead would often retrieve the mummies for major festivals, carrying them along to the party and then returning them to the site at the end of the day. We returned to the hotel for an afternoon swim, drinks, and a round of Peruvian "Sapo" (Frog). The object of the game is to throw gold coins into the narrow slit of the frog's mouth about 15 feet away. Fortunately, you also receive points for landing in larger holes marked with decreasing point values. Our new Scottish friend, a bubbly marine biologist called Janet, seemed to win every game, much to the delight of 11 year old Lynn Li who only wanted to insure that our guide, Carlos, lost.
That night we took a dreaded 8 hour overnight bus ride to Arequipa. Again the bus was Royal Class so it was better than I anticipated. Winding through the narrow mountain passes however, did not mollify my already shaky stomach and I slept fitfully. The hotel kindly offered us check in immediately and we gratefully curled up for a few hours nap before meeting Carlos for our city tour.