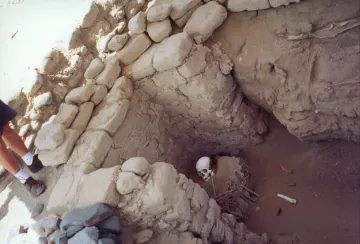 The next afternoon we arrived in Puno on the shores of Lake Titicaca. Steve was still feeling a bit ill from the altitude so he decided to stay another night in the hotel there while we all traveled out to our homestay on Amantani Island. Enroute we stopped at the famous Uros Islands, constructed entirely of reeds. Now the islands have become more of a tourist destination than anything else, but the families continue to preserve many of their original traditions and live in reed houses with clay ovens for cooking. Tourism brings in the majority of income, but we still saw a few men fishing in the nearby reeds.
We arrived in Amantani in time for lunch and were guided up the steep hillside by our host families. Our family had not arrived at the port but Olga, a young married woman with two energetic boys, soon volunteered to substitute. We met the family and were guided into the small kitchen to await lunch. The kitchen was a separate adobe building, about 5 feet high and 8 feet long with no windows. Olga prepared our lunch in a clay oven in the corner with 3 blackened pots balanced precariously atop the wood burning oven. Lunch was simple but exceptionally tasty- well seasoned quinoa (Andean cereal) soup, potatoes, rice, and a fried egg. Janet and I were absolutely stuffed but struggled to finish so as not to appear ungrateful.
After lunch, our group met at the cement soccer field and started hiking uphill to the temple of Wanu Pata (?), where we were rewarded with a tremendous view across the lake to the Bolivian mountains. We waited for the sunset but were eventually convinced to turn down by a sudden thunderstorm.
Back in our home for the night, we ate a similar meal of potatoes and rice and rested in our comfortable room upstairs. Though the family slept on simple mats on the adobe floor, our room had wooden floors, framed beds, and windows. I felt guilty spending the night in such luxury relative to Olga's family, yet they didn't seem to mind. Olga soon knocked on our door, arms laden with skirts and embroidered blouses. She dressed Janet and I in 4 multi-colored petticoats each and escorted us to the evening pena. The folk dance was held in a poorly lit rectangular cement building, alive with music from two competing bands. I was invited out to dance by a young Amantani woman and soon picked up the steps and twirls. Others joined in and the bands played faster and faster, in a seemingly never-ending melody. By the time I crawled back to my seat, I had long since forgotten the few steps I learned initially. The altitude of nearly 14,000 ft visibly affected all of us gringos who were quickly panting and red-faced. Yet after only a few moments break, Henry, our local guide, invited me out for another dance. He was less merciful than the woman and spun me round so quickly that I lost all sense of direction and narrowly avoided colliding with the other dancers on the floor. The song seemed even longer than the first, and I was grateful when I could finally rest with a bottle of water. Most of us left the dance after an hour or so, animated by the excited evening, but too tired to dance further. We collapsed happily into our warm beds.