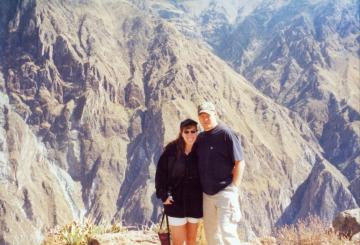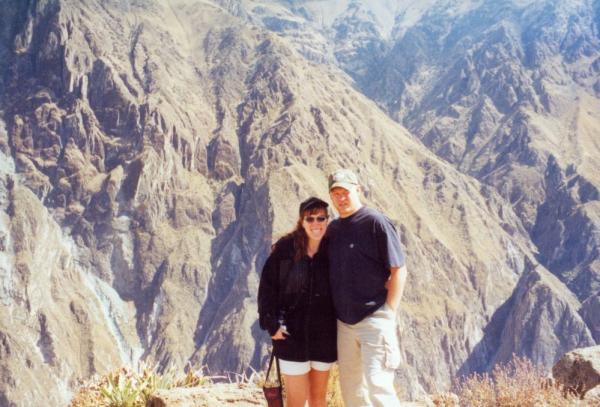 When we disembarked the plane in Puerto Maldonado, I wondered if I would have the luxury of breathing again. I regretted my long sleeve shirt and pants, feeling cloudy and light headed from the intense humidity. As soon as we arrived at the main office, I bought an ice cream bar from the wise salesman who met our bus and felt a bit better. We rode the mini-bus 45 minutes out of town to the put in point for our motorized canoes. The guides handed out tasty banana chips, reminiscent of thick Pringles, and a palm fruit juice that tasted a bit grainy.
We boarded our motorized 15 passenger canoes and set off on the 40 minute ride to Posadas Amazonas. Enroute, we were served tasty fried rice wrapped in banana leaves. Once at the lodge, we hiked up steep steps to our rooms that were lit by candle light with mosquito netting around the beds and open walls.
An hour later we met Aldo, our rainforest guide, for our first expedition into the jungle. We hiked half an hour and were already soaked through with sweat by the time that we arrived at the 120 ft observation tower. Enroute to the top of the tower, I saw a large insect that reminded me of watermelon candy with a bright pink body and green wings. Aldo said it was a giant grasshopper. As we peeked our heads through the top level, a pair of beautiful Red and Green Macaws flew right by the tower. What an awesome sight to see these massive, colorful birds passing across the treetops as we looked down on the rainforest canopy! We admired the view and used binoculars to spot toucans, parrots, and other birds. Returning to the lodge, we saw a walking stick take flight with bright gold wings and marveled at the many butterflies, including the large Owl Butterfly. Apparently, the Tambopata region has the largest diversity of butterflies anywhere in the world.