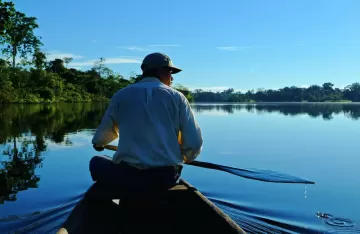 We all got up early this morning for a canoe ride to a special place our guide thought would be a good place to see the birds and mammals of the forest. We were gone from camp about two hours. We saw a troop of Red Howler Monkeys, Caiman, Red squirrels and a lot of birds, and this was all before breakfast. After breakfast we took the catamaran out again. (Have you noticed that I haven't mentioned rain?). We were only out a short time before the rains came. One of us paddled and another bailed.
Guillermo couldn't find us because it was raining so hard, you couldn't hear the motor of the canoe. Obviously Guillermo did find us and we did get towed back to camp. When we returned, we had lunch and then it was time to leave and make our way back to the Nativo Lodge. We returned our native guide home and proceeded up (down) the Aguarico river to the Nativo Lodge. It was a very quiet ride. I don't think any of us wanted the adventure to end. When we arrived at the lodge, the steps that we used a couple of days ago were gone. With the rain, the river had risen. We arrived in time for you guessed it.
HAPPY HOUR! We were out of rum and down to our last few drops of Scotch. Our hostess of the camp found a box of wine, which cost all of $2.00. It did taste a little funky, but wine does when it's three years out dated. Well it was our last night in the jungle. We brought a bottle of cheap rum and proceeded to get bombed. Two of us (no names mentioned) had to be escorted to our huts. The walk was very slippery. (Thank goodness for the sober ones in our group. They took good care of us).