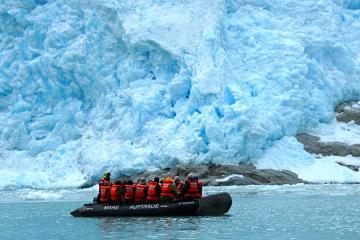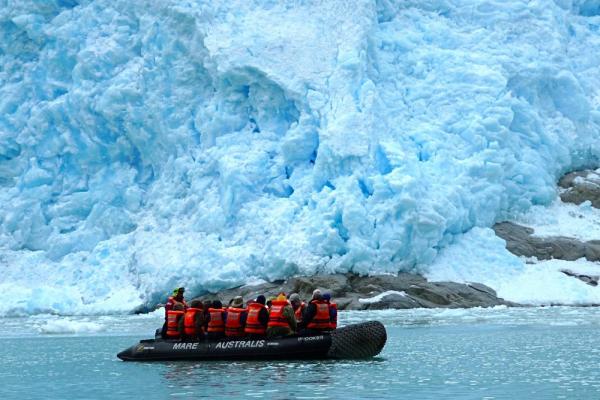 Javier wakes us up in the pitch dark, and soon we are on our way to the border. We see several skunks, as well as a baby eagle eating a dead hare in the road. When we leave the rough road for pavement, we cheer.
The bus stop is at a café/handiworks shop we had visited several days before. This time I buy a striking pair of lapis lazuli earrings for $127, designed by a local artisan.
Javier gets us on the right bus to Argentina, and at the border, the Argentines collect our passports and we are entertained by episodes of "Mr. Bean" on the bus's TV, which every nationality seems to find hilarious.
Argentina here is flat; no signs of life. Everyone sleeps. Then, suddenly, there are snow-covered mountains and we are in El Calafate. We are looking forward to hanging out in EC since we haven't been in many towns, but our itinerary says our hotel is 20 kilometers away. Hmmmm. Chris is eager for email service.
It turns out we are staying on an estancia, once a working sheep ranch but now somewhat of a tourist ranch (they have agrotourism here too, just like in New England). Chris grumbles about email, but Caitlin is in heaven. Several dogs and teenage pups mob her; horses and sheep are on the premises. There's a picture on the wall that initially looks like a flooded road but on closer inspection the water is hundreds of sheep. Caitlin says, "I feel like I've come home!"
We urge Chris to ask for a ride to town so he can walk around while we participate in the afternoon/evening tourist activities. These include tea at 5:30 followed by a sheep herding and shearing demonstration and then a bbq and a folk music/tango show. (Tourists from EC book this as a dinner/activity.)
Caitlin and I can hardly wait to jump into the hot shower after Eco Camp. The heater in our room feels so good! And we can recharge all our electrics without worrying about anyone else. (Nicola had said her favorite part about camping is how much you appreciate everything once you stop camping).
We're also feeling a bit over-glaciered. If we had to do it over again, we would have opted for another activity at Torres instead of the Grey Lake glacier boat ride considering that we were going to walk on a glacier 2 days later. Maybe horseback riding? In any case, we apparently aren't the straight nature type. We like towns too, wandering around to see how people live.
We have a fabulous late lunch. Cait has penne with tomatoes and olives; Chris and I share a smoked meats and cheeses plate. Chris naps, and Caitlin and I check out the sheep, so cuddly and picturesque they could have costarred in "Babe."
Then we see people arriving for tea. A huge table is piled with pastries, plus tea and coffee. We sample plenty, including Argentina's dulce de leche, very sweet.
After, the guide leads folks on a 40-minute walk around the estancia, but says up to 8 people can opt for a horseback ride instead. It will be slow, she promises, following the walkers. Four of us volunteer (20 pesos extra, but I don't think they ever charged us) and they have us hop on the horses tied up right there. Funny because the two Brazilian women who went with us both had to haul along their big shiny leather handbags!
We mount, and with absolutely no instruction, we take off with 2 gauchos. We immediately trot. And we trot almost the entire way! Not my favorite gait. And my horse, a paint, is a go-getter. I have to constantly slow him down.
Meanwhile, the scenery is magnificent. The pale turquoise Lake Argentino is to the left, mesas and craggy mountains in the distance to our right. But the lowering sun – it's 7 by now at least –sets the colors aglow. Creamy yellow and cornflower blue of the water are everywhere. We lead the horses into a marsh and they splash through, sending geese into the air. Black-necked swans coast in another part. The border collie darts in and out, hopping from dry spot to dry spot. Enchanting. I can't get my horse to slow down and stay still for enough pix! But the cute gaucho takes some of me and Caitlin.
I could take photos for hours in this amazing light. But as usual, we are on the hoof – literally today! Caitlin is on a brown and white horse that is a bit spooky (they had asked who was the good rider). She stays behind us, but no one seems concerned with the nose-to-tail, stay-on-the-trail idea. There's no trail, anyway. Horses change position all the time, riding up next to each other. Caitlin canters at least once. Well worth it.
After we dismount, the gaucho who led the ride shows us how electric sheep shearing equipment cut the shearing time from 7 minutes per sheep to 2 ½ minutes. And he does indeed shear the entire sheep – in one huge piece that he holds up for us when he is done!
The sheep outside that we had petted in their stalls are let in one by one to show us the different types and which ones are best for wool, meat or milk. I notice quite a few Americans (for Patagonia), and a man from Iowa tells me about a dozen of them are on a tour with Nature Photography from Missouri. I had thought there was a lot of camera power in that shearing shed.
We wake up Chris, who has slept through his idea of going into town. The BBQ dinner starts with a salad buffet, then big plates of chicken, sausage, blood sausage, lamb and beef. Chicken is the best, with really crispy skin. Dessert is a beautiful flan with cream and a squeeze of dulce de leche. For the after dinner show, a couple does some folk music and performs 3 flashy tangos.
We crawl into bed. The radiator radiates. Great to sleep in nightgown, not jeans! And to have light to read "In Patagonia" by.