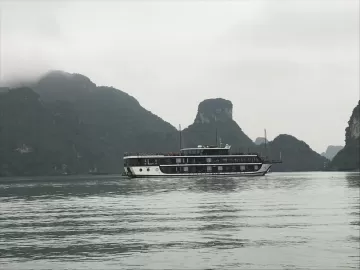 Hanoi was followed by a luxurious overnight cruise in Ha Long Bay aboard the
Peony
. We were greeted at the boat by friendly staff and a hearty buffet lunch as we cruised across the bay. After our humble experience of Hanoi and the havoc of the big city, kicking back on our cabin's balcony watching the limestone karst formations drift from view was a calming treat. The afternoon and evening had several activities in store, the first a short kayaking excursion exploring Lan Ha Bay's inlets. Mason and I shared a double kayak, paddling through the green waters to quiet spots in the bay where we could just sit still and listen to the sounds of birds and water lapping against stone.
Returning to the
Peony
, our group had the opportunity to jump from the boat into the bay for a quick swim. Although cloudy and cooler than we anticipated, the weather held out for plenty of time on the top deck of the boat for pictures and evening drinks before a cooking lesson (spring roll appetizers!) and a long multi-course dinner. We tried our hand at night squid fishing from the stern of the boat, with no luck, and slept like babies.
The next day's activities led us on a cruise to Cat Ba Island, where we could get into the jungle for a bit and explore the Trung Trang Caves. A short hike up a series of stairs provided us with a good view of the seemingly endless green, dense environment. Our guide, Ha, let us know that the impressive scenery served as the backdrop for
King Kong: Skull Island
. The jungle hummed with the sounds of insects, birds, and the occasional chatter of what must have been monkeys hiding high above us, as we made our way through and out of the cave tunnels.
After a 15-minute bus ride back down the winding island roads, we made our way back to the ship for a final meal and goodbye to the ship's crew, and cruised back to port where a comfortable air-conditioned van waited to take us back on the two-hour drive to Hanoi. We decided to explore the city for another night and day, again staying in the Old Quarter to soak up as much food and culture we could possibly get, before continuing on our journey to Cambodia.