Travel + Leisure magazine recently released what they believe are the "World's Strangest Natural Wonders". Wouldn't you know that one of our popular destinations made this
list
? Want to go to
Bolivia
?
Bolivia's Salar de Uyuni is a vast landscape that cannot help but evoke a sense of eeriness and mystery. A prehistoric lake dried up and left 4,000 square miles of salty terrain forming the largest salt desert in the world. Obviously, salt is an important part of life in this region providing mining jobs and local industry. It also attracts travelers from around the globe who want to experience a natural wonder.
Not only are travelers drawn by this unique natural site, but Salar de Uyuni is home to a community of thousands of flamingos! Imagine, pink flamingos roaming around a stretch of salt-laden ground as far as the eye can see. Truly strange...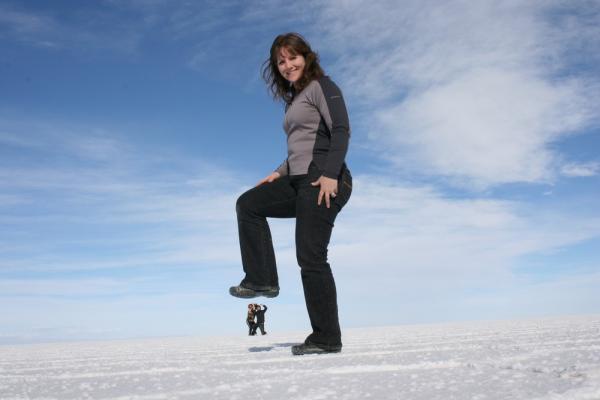 Jodi Teeple, on one of our
Bolivia Tours
, having some fun with photography in Salar de Uyuni.
***Attractions in some of our other destinations made Travel + Leisure's list, including Chile, Senegal, Columbia, Antarctica, and Mexico. We are proud that we help travelers get to some "strange" places around the world!***