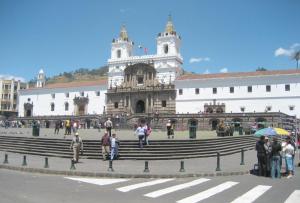 Oh what a difference a day makes!
I know it is tough to find a lot of accurate and updated information out there on just what is currently happening in Ecuador. I am happy to report that, after a pretty stressful and tense yesterday, it appears the worst is over and things today have returned to normal and stability. All commercial and banking activities are taking place – although schools are closed for today. Airports are open and flights have resumed. Those traveling in the area, or in route, please note that Galapagos and mainland adventures are operating. And it is a beautiful sunny day.
Ecuador is no stranger to demonstrations, but history has proven they – while tense – are generally short-lived. Yesterday's unrest was caused by an uprising of local police as a result of a recent proposed law that reduced their benefits and pensions. A state of emergency was declared and airports were closed. Last night, the country's President was rescued by Special Forces from the hospital in Quito, where he had sought refuge after inhaling tear gas, and was taken to the Presidential Palace. Unfortunately, two people were killed and several injured during the assault to rescue the president. The police chief has since resigned.
On a personal note, my husband and in-laws are currently in Galapagos… they are blissfully and totally unaware that anything was out of the ordinary yesterday.
I will continue to keep you updated on any changes or if any further events should unfold.