Have questions? We're here.

Get inspired by the possibilities.
Build your ideal trip.
Baja's Bounty
Example 8 Day Cruise aboard Safari Endeavour
Explore Baja island-to-island on this 8-day cruise of Mexico's Sea of Cortez. Your journey begins in San Jose del Cabo where you join the Safari Endeavor for an 8-day exploration of the Sea of Cortes. Your adventure includes wildlife watching, hiking, kayaking, paddle boarding, snorkeling with sea lion pups, and much more! Varied and unique, this itinerary is sure to delight travelers seeking a relaxing get-a-way, or those looking for an active exploration of this beautiful landscape!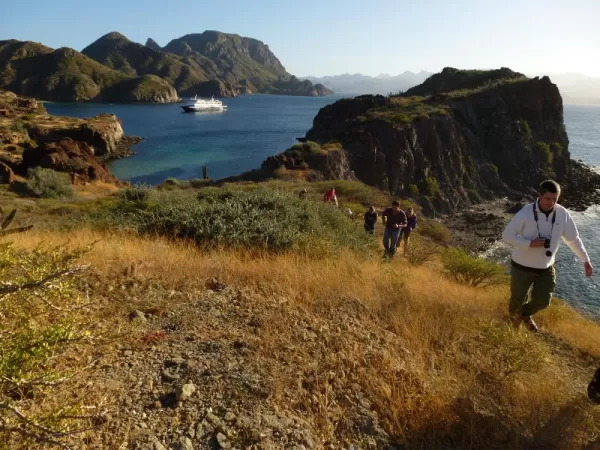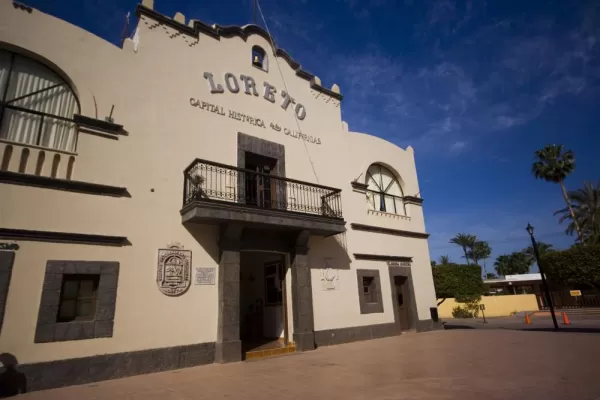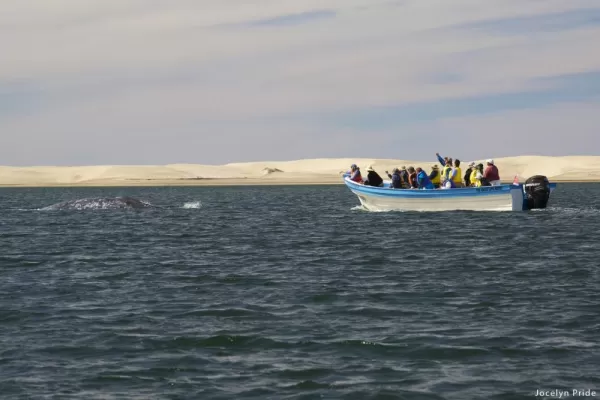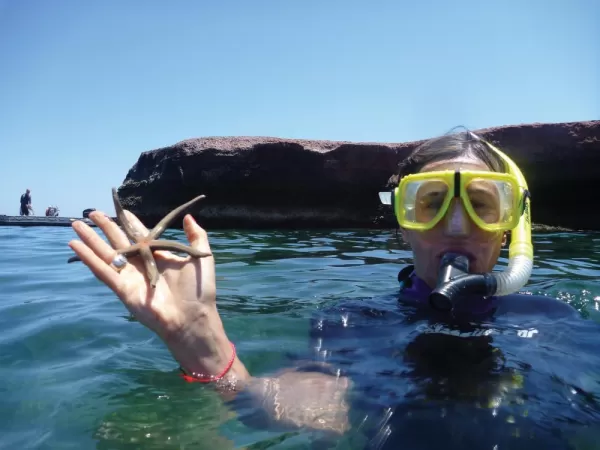 Take an early morning snorkel with curious, agile young sea lion pups
Go for an exploratory hike around the rugged island of Isla San Francisco
See gray whales as they arrive to calve in Bahia Magdalena
Kayak around rock formations off the coast of Isla Espiritu Santo
Bahia Magdalena
Baja
Isla Espiritu Santo
Isla Partida
Isla San Francisco
La Paz
San Jose del Cabo
Full Itinerary
Expand All
Day 1: San Jose del Cabo | La Paz | Embark
Bienvenidos! Meet at the Los Cabos International Airport and transfer to your San José del Cabo hospitality area. Join your expedition team, and board an overland orientation transfer to La Paz, which acquaints you with the dramatic Baja landscape and the week that lies ahead. The captain and crew welcome you aboard just in time for a cocktail and dinner with your new mates.
Day 2: Gulf of California Biosphere Reserve
1 Breakfast, 1 Lunch, 1 Dinner
Settle into the desert-sea environment at a tucked-away, remote beach like Bonanza or Ayla. Get a few tips with a snorkeling 101 lesson or just dive in. Hikers trek among the Palo Blanco bushes and cactus with interpretive guides. Whichever your option for adventure, relish in the privacy from other busy beaches. We bring the beach toys, chairs, and refreshments—you just kick back and play.
Day 3: Bahia Agua Verde
1 Breakfast, 1 Lunch, 1 Dinner
At Bahía Agua Verde, clear waters are bordered by sparse craggy mountains hemmed in green. Explore the coast by small skiff, visit with a local ranchero and his family, and take to the canyons and mountains on a burro ride and experience the "real Baja." Scenic vistas, outstanding exploration, excellent birding, and unmatched camaraderie—the day is done.
Day 4: Isla San Francisco
1 Breakfast, 1 Lunch, 1 Dinner
Adventure in a playground of steep red bluffs and sweeping desert beach. Don some flippers for a snorkel among colorful sea life, put on your walking shoes for an exploratory romp along the ridge, grab a paddle and kayak, hop on a paddleboard, or relax on the beach with the sand between your toes. The rugged beauty of the island makes it an ideal spot for escapades.
Day 5: Marine Life Search
1 Breakfast, 1 Lunch, 1 Dinner
At Magdalena Bay (mid-January to early March), Mother Nature is your guide today. The gray whales arrive each year on Baja's west coast—migrating more than 12,000 miles—to calve in Bahía Magdalena. Dock in Puerto Escondido, then drive across the peninsula to ride in a panga and observe these mammals and their babies in the lagoon.
-OR-
Bahía de la Paz (November – mid-January) Whale sharks—the largest known species of fish—are known to frequent the bay. Keep watch for the watery "footprints" of these gentle giants, and conditions permitting, gear up for an unforgettable swim alongside this colossal creature or observe from above in the skiff.
Day 6: Los Islotes | Isla Partida
1 Breakfast, 1 Lunch, 1 Dinner
At Los Islotes—a steep craggy seamount leaping straight from the sea—observe a sea lion colony from the boat and skiff, or slip into a wetsuit for an early morning snorkel with curious, agile young sea lion pups. Afterwards, heave anchor and set sail for Isla Partida, for an afternoon of water play or island hikes along desert beaches or into rocky arroyos.
Day 7: Isla Espiritu Santo
1 Breakfast, 1 Lunch, 1 Dinner
Tuck into a secluded cove surrounded by long fingers of red rock and a golden beach. Spend your last full day enjoying the feel of warm sand under your feet on a beach walk, investigate nooks and crannies in the rocks by kayak, or explore a little further afield on a guided hike. Celebrate your week at tonight's special Farewell Dinner with an entertaining slideshow by your expedition team.
Day 8: La Paz | San Jose | Disembark
After breakfast, it's "adios" La Paz, as you disembark the vessel and transfer back to San José del Cabo airport.
Dates & Prices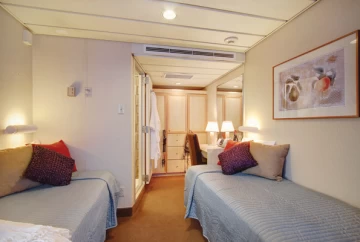 Select a Date
Navigator Cabin
Feature queen or twin beds, view window or porthole, private bath with shower, desk & chair.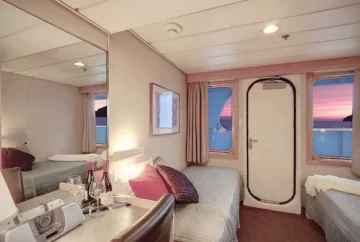 Select a Date
Trailblazer Cabin
Feature twin beds, view window, private bath with shower, desk & chair.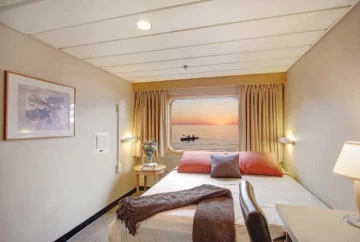 Select a Date
Pathfinder Cabin
Feature king or twin beds, view windows, private bath with shower, desk & chair.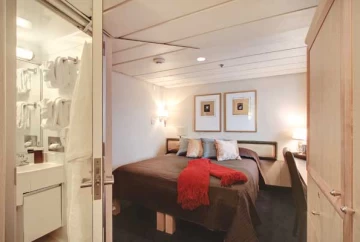 Select a Date
Admiral Cabin
Feature king or twin beds, view windows, private bath with shower, refrigerator, desk & chair.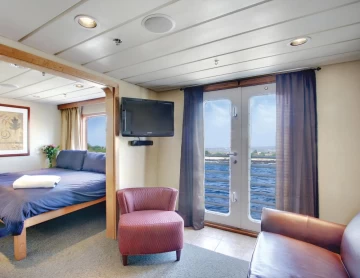 Select a Date
Commodore Suites
Separate sitting area, king or twin beds, private bath with jacuzzi tub & shower, view window and french doors to a small balcony.
Notes

Included in Your Fare:
- Group transfers and baggage handling between airport/vessel on embark/disembark day
- Entry fees to national parks/preserves
- From-the-vessel adventure activities and equipment
- Exclusive activities and shore visits
- All meals aboard the vessel
- Premium wine, beer and liquor (excludes super-premium wines)
- Non-alcoholic beverages
- Wellness amenities
- Onboard expedition/heritage guides and guest experts

Not included in Your Fare:
- Airfare to and from your home city
- Discretionary gratuities to vessel's crew
- Travel protection
- Optional excursions and land tours
- Port taxes/fees
Inquire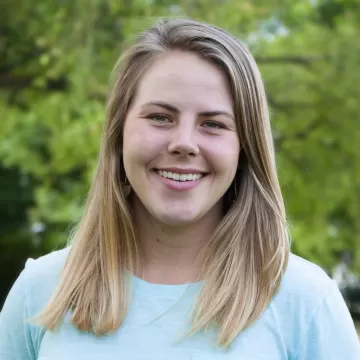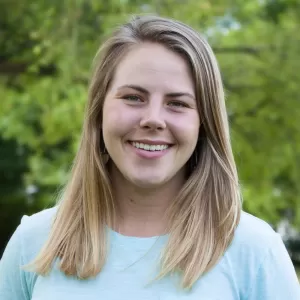 We Love to Talk Travel
Call
1.800.344.6118
or
Chat Now
This was our first trip to South America and we were a little nervous. But Adventure Life made things so easy! All our questions were answered before we left, and our guide, Vidal, was amazing! He gave us enough space to explore without rushing us along. He also knew where the best picture taking opportunities were, which was great.
Lindsay Gompf
Mexico Travel Guide
Favorite Mexico Tours & Cruises