We made it in one piece and with all of our luggage.  It is hot when we land in Puert Vallarta, Mexico. and we can't wait to get out of the airport and settled at the condo.
Once we get there, our first order of business is to get some cold refreshments.  Luckily we are centrally located so the nearest grocery store is just a 10 minute walk away.  It doesn't take us long to find the beer section.  However, we did not expect it to take so long to decide what type of beer to choose.  There is Pacifico, Pacifico Light, Corona, Corona Light, Corona Familiar, Tecate, Dos Equis and then an array of American domestic beer and local beer that we don't  recognize. Not really being versed in Mexican beer, we grab Pacifico and Corona Light.  And of course a Mexican beer just doesn't seem complete with out a lime.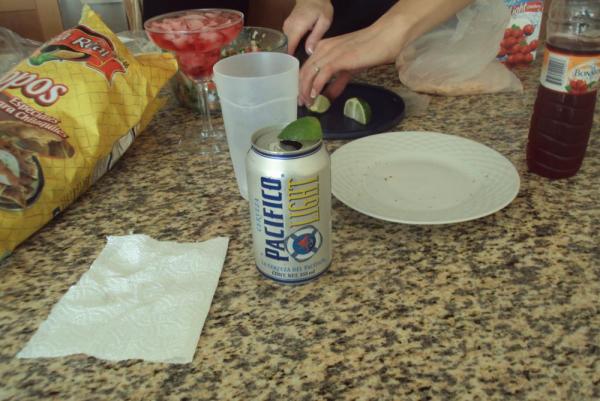 The beer proves to be a refreshing treat after two days of flying with kids and the 90 degree heat.  With a lime the beer seems more like limeade than beer.  The seletion we have chosen is familiar and works great with our days of playing on the beaches of Banderas Bay and practicing our swim skills in the pool.
It is not until we are here a few days that we realize we needed to do it like the locals.  The convenience stores sell Corona Familiar which the locals then pour into very large styrofoam cups.  It being a hot Friday afternoon, it appears to us that this is the way people unwind after a week of work, similar to us meeting up with friends here in the states.
Later in the week, we visit a local bar to watch football (American football...not soccer).  The waitress encourages us to explore some of the microbrews brewed in Jalisco, the providence where Puerto Vallarta is located.  Two of the beers we sample are made in Guadalajara, 4 hours east of Puerto Vallarta. 
The first one is called Minerva Stout and is a dark beer.  It has great chocolate tones.  To our surprise we both enjoy it even given the 80 degree evening heat. The next beer is called Berber which is a Pilsner.  Also good but I think we both preferred the stout.  The third beer is made near Mexico City and is called Tempus.  It is a golden ale and very creamy. 
Overall, we continue to drink the refreshing domestic beers for our days relaxing on the beach simple availability of the beer.   But for people that like microbrews in the states, I highly recommend exploring microwbrews in Mexico.