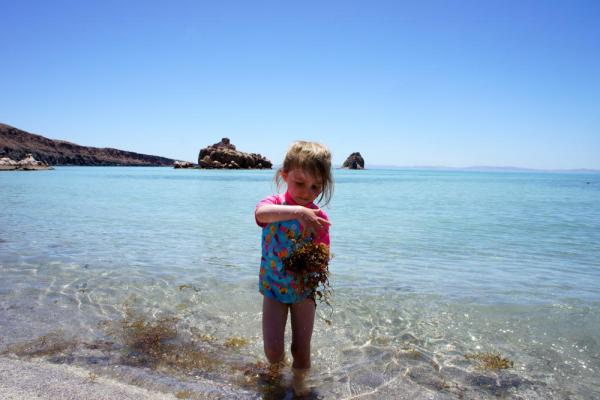 We had a solid sleep after yesterday's long day of travel & transfers. Everyone rose bright-eyed and we were downstairs to meet our driver, Jorge, in the hotel lobby by 8:15 am sharp. Our agenda today was a private trip to Espiritu Santo Island and snorkeling with sea lions at the island's Los Islotes. Called
The Pearl of Cortez
, this beautiful rocky island with a spiritual name is a little over an hour's boat-ride from La Paz Bay. A national park, Espiritu Santo is a haven for wildlife and is celebrated for great snorkeling and countless secluded beaches. We were hoping to confirm the island's famous status.
After getting suited for wetsuits and snorkeling fins, Jorge dropped us off at the marina. He waved us a fond farewell, leaving us in the good hands of our guide, Pedro Lopez. A local from La Paz, Aaron and I immediately bonded with Pedro over our shared love of biathlons and marathons -- while the kids connected via silly faces and a little slapstick. He was the perfect guide for us.
We boarded our speedboat. Our captain for the day was Cocoo, an experienced fisherman with 20+ years of exploring the Sea of Cortez under his belt. On board, the kids pointed out dolphins and kept watch for leaping manta rays, while Aaron and I sat back and enjoyed the sun and sea-spray, finally embracing that we were on holiday. Enroute our capable captain maneuvered our boat into tiny cliff-side caves while Pedro explained a little about the island's unique geology visually outlined in its rocky landscape.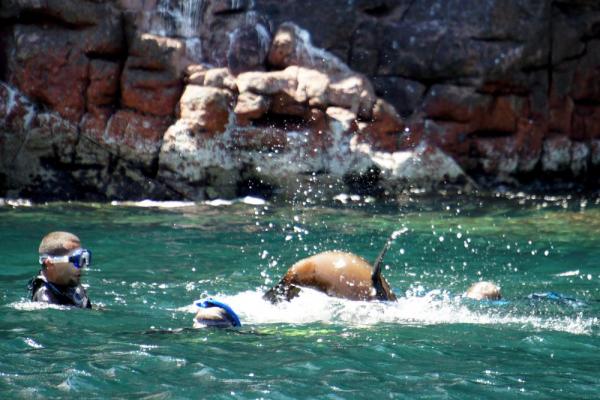 "Mom, did you hear that?" my 7-year-old, Samuel, said as the boat slowed. We were approaching a small rocky island. "There's a dog our there."
He was close -- not dogs exactly, but lions. The tiny Los Islotes is year-round home to roughly 500 sea lions. We slowly approached the island. Pups nursed from their mothers, while large bulls barked. Aaron spotted some squids in the water, which was unusual for this region. Even more so was that the sea lions were taking advantage of this calamari feast; Pedro explained they typically hunt further away from the colony in deeper waters. We joined a handful of other small boats in the area and found a place to anchor.
"I see Mojito," said Pedro. He pointed at a small group of young sea lions sunning themselves on shore. Pedro has visited this colony so often he has named some of his favorites. "We're in luck. Mojito loves to play."
He was right. Pedro, Aaron, myself and our 15-year-old daughter, Gabs joined Mojito and a few of his friends in the water. The sea lions blew bubbles in our faces, nipped on our fins, dove over heads and thought our underwater camera was hilarious (and delicious). It was hard to tell who was entertaining who, but I assure you I was entertained!
"Mom," Gabs said pulling her snorkel from her mouth. "This is the coolest thing ever!"
Samuel and our four-year-old, Faye, made a solid attempt to join us, but the water was a little choppy and quite cold. They were content to stay with Cocoo and watch us play with the sea lions from the boat.
After an hour or so in the water, attempting to keep up with the sea lions, we were delightfully exhausted and hungry. Saying good-bye to Mojito, our next stop was Candelabra Beach. Here a private picnic lunch was waiting for us, along an isolated beach that defines tranquil. We immediately found our niche. Gabs and I parked it in the warm sand. Aaron chatted with Pedro in the shade. Faye and Samuel waded in the turquoise water in search of creatures. Our lunch spread was awesome: fresh salad, cheeses, avocados, fruit and a Pacifico or two. Bellies full, Aaron and Gabs tackled the paddle boards and I went for a swim. Samuel put his snorkeling gear on and headed to a nearby reef. He emerged from the water proudly declaring, "I swam with the fishes!"
We took our time here. There was no rush to leave and plenty of reasons to stay. But as the sun started to loom over the horizon, we knew it was time to board our boat back to La Paz. But before we did that, Pedro had something else in store for the Conways.
The sky was suddenly filled with activity as our boat came closer to a colony of hundreds of nesting Magnificent Frigates. The birds were busy. They circled the boat and skinned the water -- a closet birder, this was a spectacular moment for me.
"Just one last little surprise I had to share with you," Pedro said as we drifted away from the birds.
But he was wrong. Once back in La Paz Bay a pod of porpoises surrounded our boat and we watched them perform as the day transformed into evening.
A fantastic start to our
family Mexico vacation.
Weather report:
Slight breeze & sunny. High 90s.
Sunburn report:
Kids pink, Aaron peeling.
Animal sightings:
Leaping manta rays, squid, countless fish, hundreds of sea lions & frigate birds, dolphins and a pod of porpoises
To read additional entries from our family Mexico adventure,
click here
.