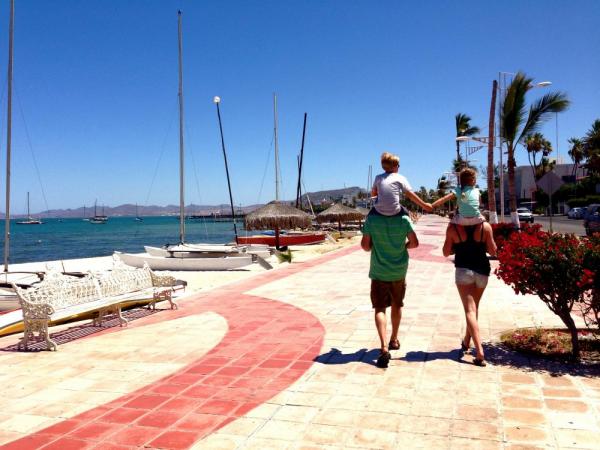 The boardwalk in La Paz's Malecon district is ideal for strolling. And following our
5-day camping adventure
in the sand and sun of Magdalena Bay, a day casually walking the boardwalk was welcomed. We were up early to try and beat the height of the afternoon heat -- 9:30 AM and it was already in the mid-eighties. The kids had a handful of pesos burning a hole their pockets and they did a little bargaining with street vendors for souvenirs. We took pictures along the pier. We stopped for ice cream at a small shop called La Fuente and people-watched while our hands grew sticky with melted lime sorbet and chocolate chip ice cream. The boardwalk was lined with sand sculptures of familiar Disney characters and local marine life; Samuel and Faye posed for a picture next to an eight-foot tall sea horse and turtle the size of a small car.
"Don't touch," I said and pointed to a nearby sign that repeated
No Tocar
.
"Mom," Faye responded. "I got to touch real turtles, remember?"
"I do."
Dinner that night was joined by Jaime Campos and Chris Pesenti from
RED Sustainable Travel
and Adventure Life partners. Between bites of the best mushroom burger I have ever eaten, we talked a little shop, but mostly I reminisced about our Baja adventures that week. (I overused the word "awesome", talked with my hands and made a lot of grand gestures, which occurs when I talk about something I find ... well, awesome.) It was a perfect way to finish our
family vacation
: new friends in a new favorite destination that the Conways are certain to frequent again and again.
To read additional entries from our family Mexico adventure,
click here
.