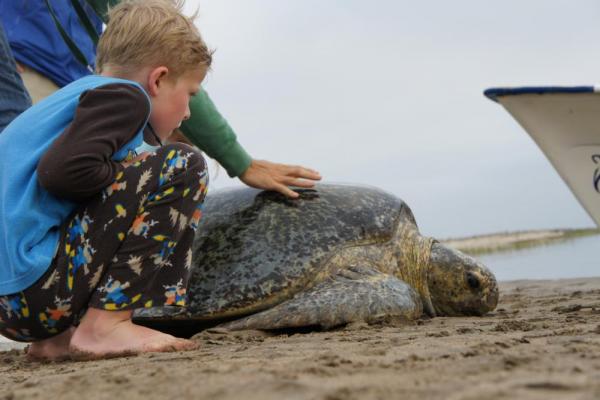 Turtle monitoring begins!
The camp buzzed with energy. The turtle monitoring was a much anticipated highlight of our
Baja camping adventure
and the Conway family was anxious to get up-close with the region's black sea turtles. This monitoring program is part of
Grupo Tortuguero
's community and sea turtle conservation project -- the information gathered provides data on health, migration patterns and habitat use of sea turtles in Magdalena Bay.
Leading this conservation effort are Magdalena Bay's local fisherman. Former sea turtle hunters, they are now principal players in their protection. Our leaders were fisherman Carlos and Jorge and they joined us at camp for an early breakfast. We were also joined by two members from Grupo Tortugero, Antonio and Barbara; friendly and enthusiastic, they were welcomed additions to our growing Baja family.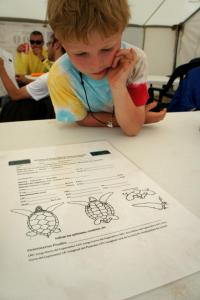 The 24-hour monitoring started with a boat ride into the bay to set the net. Taking in account the tide, channels, depth and past successes, Jorge and Carlos set the turtle net intently. The net itself is unique to the program. Constructed like a curtain, it is specially designed to release turtles safely to the surface and prevent drowning.
Every two hours the net was checked for turtles. In the meantime we kept busy at camp with other marine creatures. 7-year-old Samuel and his 4-year-old sidekick, Faye, dug water-filled trenches along the beach creating a menagerie of hermit crabs, star fish, clams and scallops. Our group took advantage of the campsite's volleyball net to show off our mediocre skills in a few friendly matches. A hermit crab race followed shortly, proving that in an event where nine slow-moving, directionally-challenged crabs are pitted against each other, there are no winners.
Six hours into our monitoring came the announcement we'd been waiting for -
Tortuga!
Aaron, it turned out, was our lucky-charm. He was the only one to accompany the fisherman during that round and came back with not one, but two turtles. Both turtles were new captures: a healthy male and female.
The fisherman carried the turtles, one by one, safely to the shore. We covered the turtles' heads to keep them calm. The Conway kids, naturalists in the making, were ready with notebooks and quickly scribbled pictures and stats: weight, sex, shell measurements and the locations of a few pesky barnacles.
"Mr. Jensen is going to love this," said our daughter Gabs as she took detailed notes to share with her high school science teacher -- a fellow turtle-enthusiast -- back in Montana.
The turtles needed tags and names. Samuel settled on "Jack" and our eldest decided to pass on her namesake, thus another "Gabs" was born. Following Jorge's lead, Samuel kept Jack comfortable by pouring saltwater over his shell and head, and tried to make easy conversation with questions like, "Where do you sleep in the ocean?" and "Can you wag your tail?"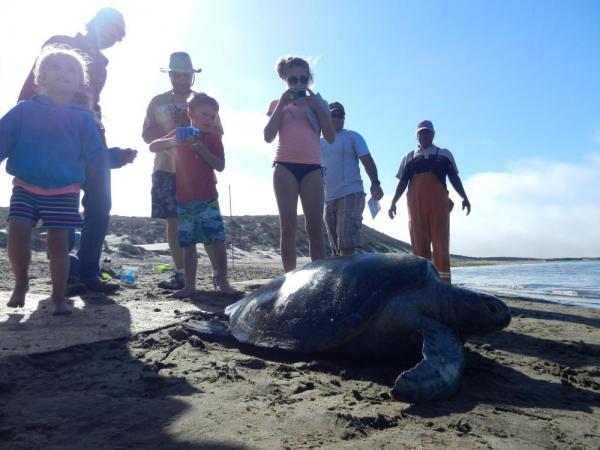 The monitoring continued into the night. Gabs and I joined Jorge and Carlos for a midnight visit to the net. It was dark. I turned my headlamp off to eliminate the last of the light-pollution. No stars, no moon, no city lights -- nothing to light our way but a glow of bioluminescence that haloed the bottom of our boat. The horizon blurred into the blackness and we headed out blindly into that abyss. Seemingly on instinct, our guides found their way to and from the net. No turtles that night, but our evening was hardly disappointing.
Aaron, putting his Irish-luck to the test, pulled through again at 6:00 AM with a 128 kilo female: a re-capture named Patty. Patty, perhaps carrying some Irish-luck of her own, was thriving. Almost two years had passed since she was first tagged and she was steadily growing and gaining a healthy weight. She was calmer than her fellow captures -- even as a party of four strained to hoist her onto the scale -- maybe because the process was somewhat familiar. After checking her tags (#2455 and #2456) our group posed next to the sea turtle for a quick photo. She seemed to approve. So did the pod of dolphins that ceremoniously swam by as the turtle disappeared back into the bay.
Want to go?
To read additional entries from our family Mexico adventure,
click here
.