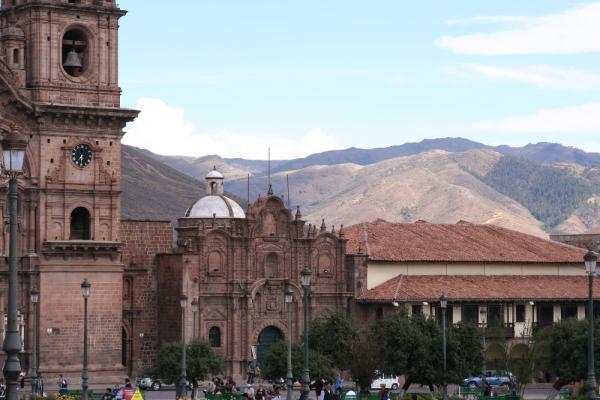 I eat a good breakfast this morning--toast and eggs and fruit and papaya juice--before Boris arrives. The streets that were deserted last night are now busy with morning traffic. I know that not all of Lima's 9 million people can possibly be driving through the streets right now, but it certainly seems like it. Buses, taxis, bicycles, mopeds cram into the thoroughfares in a noisy, colorful frenzy. At last we reach the airport and check in for the 9:35 flight to Cusco. I'd love to tell about the gorgeous views of the Andes that I saw from the plane window, but I end up in the last (windowless) row, and focus instead on talking to my seatmate, who had just come from a cruise in the Galapagos. After a brief flight--only an hour and a half--the plane lands.
Stepping out onto the tarmac, I get my first glimpse of Cusco. High, verdant mountains in all directions. Cloudless blue sky arcing above. Thousands of red tile roofs scattered in the valley and up the sides of the hills. I draw a deep breath of the clear mountain air as the sunlight sparkles around me. It is love at first sight.
I meet my waiting transfer guide, Kike, a young, handsome Peruvian who takes my backpack and stows it expertly in the van. We travel through the narrow Cusco streets to the Del Prado Inn, located approximately five steps off the Plaza de Armas. The staff are wonderfully friendly and welcoming, and I settle into my small but cozy room for a nap before exploring the city. I have the afternoon to myself while I wait for the rest of my group to join me--they are taking the bus today from Lake Titicaca.
I wander through the steep, narrow streets. Some are so steep that stairs have been cut into them--I almost prefer these, as I don't have to worry about traffic coming through! Small children try to sell me finger puppets and postcards, but I refuse. Perhaps another day. The main plaza is large and gracious, European in style, with green benches, flower beds, and pigeons hoping for food. I settle on the steps of the Cathedral with my sketchbook, watching schoolgirls in their navy uniforms, young people cuddling on the benches, and old women selling painted pictures, knitted hats, or beautifully carved gourds.
After a relaxing afternoon, I make my way back to the hotel to wait for my group. They arrive around 7 in the evening, and I come down to the lobby to meet them. Bill and Beverly are retired, in their 60s, and visiting Peru for the second time--30 years after their first visit. Brenda D. and Diane are in their 50s, from Michigan. Brenda V. is an emergency-room nurse from Boston, traveling to Peru to celebrate her 50th birthday. At 27, I am the youngest by a good many years, but I know immediately that I'm going to love this group. They're laughing and teasing each other as I join them. A handsome Peruvian man around my age steps forward, introducing himself as Marco Palomino. Marco's been guiding for ALJ for years, and all I hear about him are rave reviews; it is good to finally meet him. He gives us a briefing about what we'll be doing the next day, tells us he'll meet us here in the lobby at 8 am, and wishes us a restful night before heading home to his family.