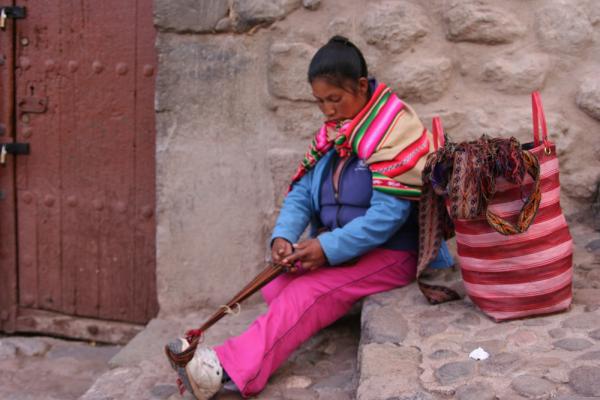 Inca Trail, Day 1! I wake early, before 6, and slip out to explore Ollantaytambo in the quiet of the morning. I find the central plaza, see the men in their colorful garb--orange-red shawls and hats--and walk around the town as it awakes. After breakfast at the hotel, Marco takes us to buy walking sticks--broomsticks with rubber tips and colorful woven handles for 10 soles each. Shortly after 8 am we are packed and in the van, on our way to kilometer 82 and the beginning of our hike.
Marco calls today the acclimating day; we gain only 1,000 feet in elevation over the course of 6 or 7 miles. This gives me plenty of time and energy to appreciate the landscape through which we walk: views of Veronica, a spectacular 19,000-foot snow-capped peak; the Urubamba River paralleling the trail; and the wealth of bird and plant life. We see hummingbirds of all colors, American kestrels, flocks of loud green parakeets, geese. We pass yellow-flowered Scotch broom, white angel's trumpet flowers, avocado tees, fig trees, and myriad orchids. We stop frequently to rest, eat snacks of fruit or chocolate, and explore the ruins along the way. Our porters do not stop to rest. Though we started off before them, they pass us quickly, their muscled calves moving quickly beneath their huge packs.
When we arrive at our lunch spot, we find a large dining tent set up and waiting for us. Bowls of warm water, soap, and towels are set outside, and we wash our hands and faces gratefully. Lunch is delicious and generous--as, I will soon discover, are all our meals on the trail. We down the spinach soup, fresh vegetables, chicken, yucca, and tea as though we haven't eaten in a week. The altitude may be contributing to our overactive appetites . . .
We hike for only a couple more hours before reaching our campsite at Wayllabamba. Our tents are set up (of course!), and our duffels spread out on a tarp. I have a spacious tent to myself, and the provided thermarest has already been inflated and put inside. There are basic but adequate bathrooms here, which I was not expecting, but I am grateful! We have a light tea since dinner won't be ready for another couple of hours. I find that I enjoy being fed every 2-3 hours. We eat another fantastic meal by the light of a gas lamp, and spend the evening telling stories and jokes and laughing, before heading into our tents for the night. I sit outside for a little while with Marco, watching the stars blazing overhead. I haven't seen so many stars in a long time. Marco points out the perfectly proportioned Southern Cross, the bright Eyes of the Llama in the river of Milky Way, and familiar constellations like Scorpio and Orion.