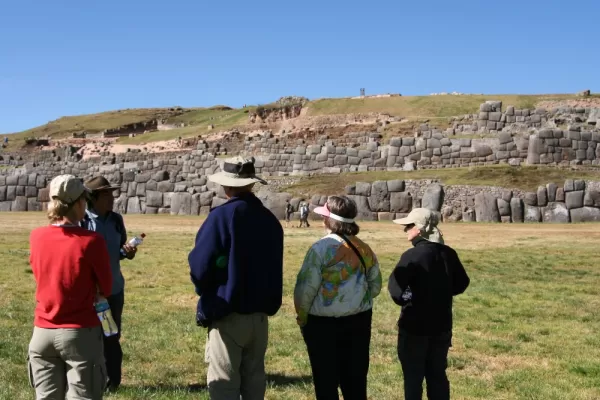 We have decided to sleep in a little this morning--that is, we're not going to get up for the 6 AM bus up to the ruins. The 8 AM bus will do just as well. The round trip shuttle fare is 40 soles (~$13), and we are back at Machu Picchu by 8:30. Marco takes us around for the first few hours, showing us some of the most popular sections--the Temple of the Sun, the sun dial, the Temple of the Three Windows, the echo stones (which are carved in the shape of the mountain behind), and we drink in the knowledge he shares along with the views.
Gluttons for punishment and adventure, Bill and I have decided to hike to the top of Huayna Picchu, the high peak behind the ruins. We wait in a long line first, as everyone hiking to the top must check in--so that if we don't return they know to look for us! Also, only 400 or so people can hike up Huayna Picchu each day.
We hike up, and up, and up. Stairs, stairs, and more stairs, some of them extremely steep and narrow, with sharp drop-offs on one side. This expedition is not for the faint of heart. But at last we make our way to the very top--it is rocky, and we perch on a large stone to catch our breaths and take victory pictures. The view is 360; Machu Picchu, from above, looks like a condor nestled into the landscape. The river curves in a tight "C" around Huayna Picchu, and the mountains rise green all around us. The view is very much worth the extra effort!
By the time we get back down, we are both exhausted and dripping with sweat. We take the shuttle back down to Aguas Calientes, and eat pizza out on the deck of the restaurant we ate at the previous night. I love eating the local food of the countries I visit, but I have a definite weakness for pizza, and this afternoon I need comfort food.
At 4:30 we are packed and ready to go, and we make our way to the train station to jump on the backpacker train that will take us back to Ollantaytambo. In Ollantaytambo a van is waiting to bring us the rest of the way to Cusco, which we reach at around 8:00. We check back into the familiar, cozy Del Prado Inn, and I fall asleep immediately.