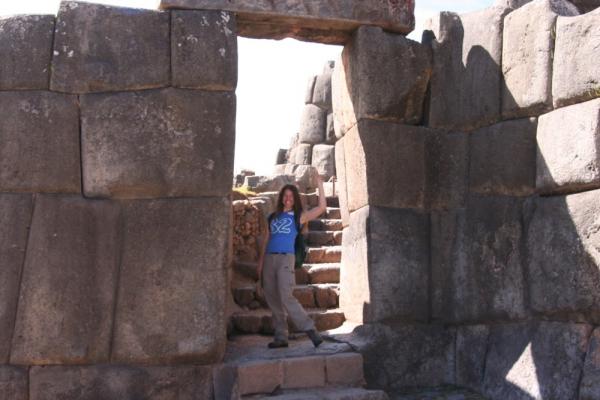 I'm up early to eat breakfast this morning, and Bill has gotten up to eat with me. I am sad to leave this group of people, who have also become good friends in such a short time. I will miss them.
Kike arrives at 7 with a van to take me to the bus station. My seat is at the very back of the bus, next to Danielle, an Australian girl who is traveling the world for a year. We are about the same age, and end up talking for much of this long day of driving.
We stop every couple of hours to rest, stretch, and explore. The day is overcast, the first such day since I arrived in Cusco. The ride is long, and the guide on the bus is not nearly so skilled nor knowledgeable as Marco. But it's fun to stop in the little towns along the way, to see the small museums or exotic ruins or colorful markets. We stop for lunch at mid-day, a generous, varied buffet at a small restaurant, and eat well before piling back on the bus.
We arrive in Puno around 5 pm. After a little confusion, I find the woman who is supposed to pick me up and transfer me to the hotel. She tells me what I can expect for the next couple of days--I'll be heading out to Amantani Island on Lake Titicaca--and I ask her to explain in Spanish so that I can practice my comprehension. I'm surprised at how much my high school Spanish has improved even in these 10 days. I can speak it more confidently and understand a remarkable amount.
We arrive at the Q'elqatani Hotel, which is quaint and very centrally located, just off of Calle Lima. The bed is perhaps the most comfortable of all I've slept in on this trip. Danielle and I had decided to meet for dinner, so we venture out together along Calle Lima. She is frugal, so much so that she bargains for the price of our meal at the restaurant. With my group, I ended up paying more for meals than I'd expected, but we always went to fairly fancy restaurants. Danielle teaches me about the 'tourist menu,' a set menu that generally includes a choice of appetizer, drink, entree, and dessert, for a set price which is much less expensive than the ala carte menu. A pity I didn't know of this option earlier . . .
After dinner we explore the local markets. Night has fallen, and the streets are a blur of light and color and sound. We find stands that sell fruit, books, music, meat, clothing, jewelry. This part of town has few tourists--we are almost the only light-haired people, and the Peruvians stare at us curiously. Perhaps not many tourists venture this far away from the main areas of town.