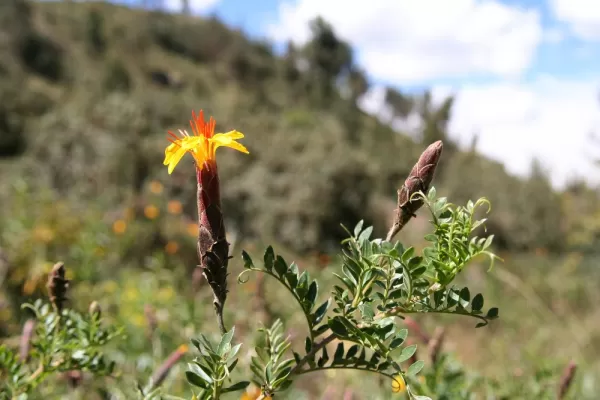 It is my last day in Peru--is it possible? Yet the time did not seem to pass overly quickly. Each moment was full, complete, beautiful. I feel the fullness of the experience, mulling it over as I eat breakfast, thinking how much I've enjoyed exploring this country, how much I've fallen in love with it.
This morning I will take a city tour of Lima, and I am hoping that the tour makes me appreciate the city a little--it is even harder to be here in the smog and fog after the crisp clean air of the mountains. We visit a couple of the main plazas, some historic churches, and even stop to tour the catacombs (which is definitely my favorite part of the tour!). We end by visiting a park right on the coast, and I stand on the hill and look out over the blue-grey expanse of ocean, smelling the salty freshness on the wind. Perhaps Lima isn't so bad, after all.
Milagros Polo, our Peru coordinator, is waiting at the Hotel Carmel when I return. It is so good to finally meet her! I have spent plenty of time emailing her and IMing her, so to meet her in person is a pleasure. She is beautiful and petite, and her clothing is very chic. We go out to lunch at a delightful upscale restaurant downtown, and eat . . . and eat . . . and eat. Big pisco sours, chicha morada, ceviche (mmm!), appetizers, dessert. 'I have never met another woman who eats as much as I do!' Milagros tells me in delight. We talk nonstop about work, relationships, men, and once again I am struck by how we are all so alike, no matter the culture we come from or the language we speak.
As evening falls, Milagros takes me to her lovely home and office to meet Pamela (Milagros' primary staff person in the office), and her adorable son, Bruno. We then go out to Miraflores to stroll around, visit a market area or two, and eat a sumptuous dessert. It is a lovely way to end my time in Peru. We return to Milagros's house, where Boris is waiting to take me to the airport one last time. I am glad to arrive 3 hours early--the lines are long and I need all the time I can get!
On the red-eye flight back to the U.S., I press my face to the window to watch the stars shining down. I gaze at the Cruz del Sur and the Ojos de la Llama for as long as I can, until finally they slip over the southern horizon. 'Come back,' they whisper. I know that someday I will return, and I know too that they will be waiting.