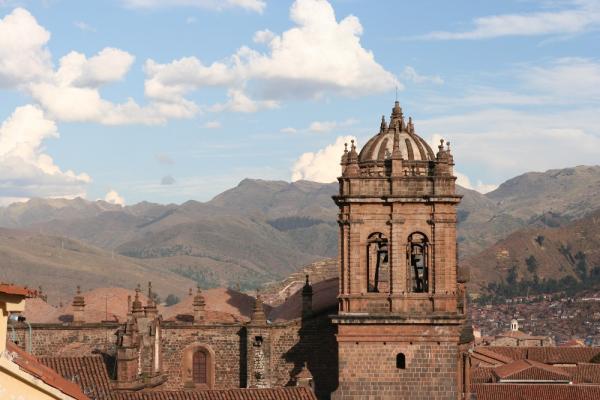 Today we have two more passes to cross, but compared to Dead Woman's Pass they seem minor bumps indeed. I continue to be awed by the beauty of this country, as well as its spiritual richness. The clouds shift above us, below us, around us, constantly changing the face of the land. The sky beyond the clouds is a high, bright blue, and the land is every shade of green imaginable. We continue to see varied bird life: scarlet-breasted parakeets, black and white falcons, scarlet-breasted tanagers, sapphire-winged hummingbirds. Two white-tailed deer appear just to the edge of the trail. Kaleidoscopically-colored flowers surround us on all sides, too many for me to remember all their names. A flora and fauna book would have come in handy . . .
We hike through more cloudforest, pause at more Incan ruins. Marco takes us off the trail to a hidden ruin he knows about. We bushwhack through the underbrush, almost on hands and knees at times, and come to a small cave of mossy Incan stones. Tree roots are wrapping around some of them, forcing cracks into others. I feel like an explorer discovering an ancient ruin; looking at the faces of Diane and Brenda and Brenda and Bill, I know they feel the same. Diane is giddy with the delight of standing in this sunlit, mossy ruin. Back on the trail, Marco points out where the ruin is on the hillside. It is completely invisible; all I can see is a green tangle of leaves and branches, trees and bushes. I wonder how many more ruins are hidden in this fiercely alive jungle. Dozens? Hundreds? Thousands?
This afternoon we reach our highest campsite, Phuyapatamarca, at 12,000 feet. Phuyapatamarca: 'the city above the clouds.' It is aptly named. Before dinner I hike down the ridge to sit on a high point of land that falls steeply down to the valley below. Clouds wrap their ethereal shawls around the mountains below as well as floating in the sky high above. Between the layers of cloud, I sit on a rock outcrop that is looking over the edge of heaven. The clouds shift and stir, offering new sights with each passing second. Veronica appears for a moment, then disappears in a cloak of grey-white. Machu Picchu peak appears and disappears below me. Sunlight shafts through the shifting cloudscape. I am torn away from my perch only when my stomach reminds me that it's time for tea, and I devour the popcorn, fried cheese, and crackers and jam. I can't believe this is our last night on the trail, that tomorrow we'll arrive at Machu Picchu.