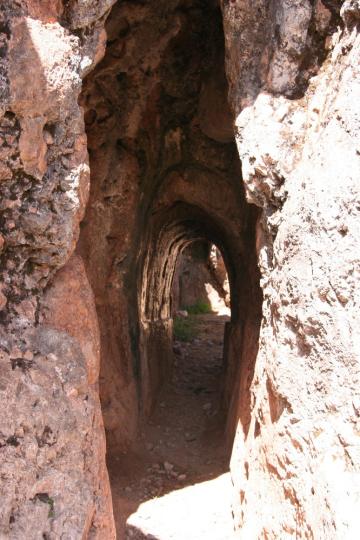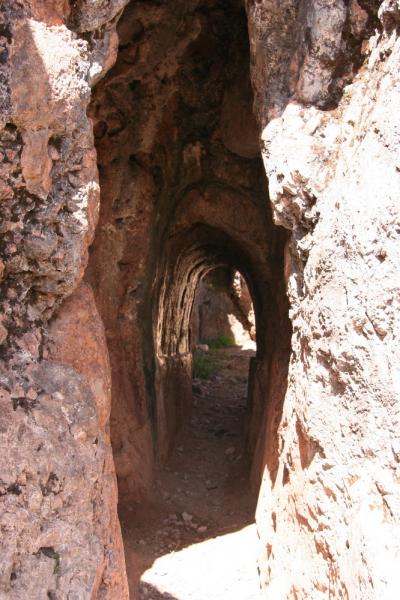 I spend my unscheduled Sunday morning eating another good breakfast at the Q'elqatani, and then I head to the Plaza de Armas with my journal and camera. The plaza slowly fills with people; I am told that there is a parade today, which seems to be a common occurrence in Peru. The man also informs me that this parade is particularly honoring teachers. It goes on for hours. I am intrigued by a group of little boys dressed up as soldiers . . . and a group of little girls dressed up as nurses. Hmm.
I eat lunch on a tiny balcony overlooking Calle Lima, and sip my banana smoothie slowly while watching the people pass by below. In the early afternoon I go back to my hotel to finish packing and meet my guide for the afternoon--I have arranged to visit the Sillustani ruins on the way to the airport. My guide's name is Marco, and after he helps me put my backpack in the van, we drive about half an hour out of the city to a high hill overlooking a deep blue lake, Lago Umayo. Sillustani is a necropolis, and the tall stone towers scattered across the hillside were buildings for burials. Marco takes me around the ruins, pointing out items of interest, and then we sit on a high bluff overlooking the lake and sit silently, watching the sunlight glint on the water and seagulls flying along the shore below.
After this, I climb in the van for the rest of the drive to Juliaca's tiny airport. The sun has set and dusk is falling across the landscape as I walk across the tarmac to the plane. The sky is a deep blue-green edged with gold on the western horizon, and the stars have begun to come out. The Ojos del Llama beam down at me.
I arrive in Lima around 7:30 pm, and faithful Boris is waiting when I walk out of the terminal. He kisses my cheek and asks how my time in Peru has been. 'Excelente,' I tell him as we climb into the car and head out to Miraflores and the Hotel Carmel. 'Tu paiz es muy hermoso.'