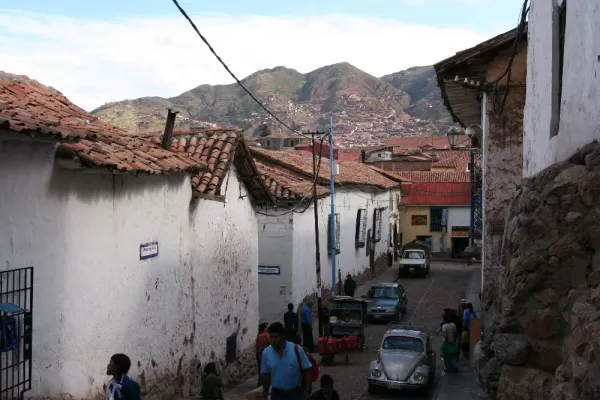 After a good breakfast--toast, cereal, fruit, eggs, bacon, and pineapple juice--Marco picks us up to take us to Sacsayhuaman. We pile into a large van and wind our way up one of Cusco's many hills. The air is crisp and clear, the sky blue, the sun shining brightly. Another perfect day. We settle on the springy grass, away from the other tourists exploring the walls of Sacsayhuaman, and listen to Marco's explanation of Incan worldviews and history. Dualities--light, dark, masculine, feminine, dry, wet, sun, moon--not set against each other, but working with each other, completing each other, like yin and yang. The sacred animals: the condor, lord of the sky; the puma, lord of the earth; the snake, lord of the underworld, the world beneath the earth. The importance of the Milky Way, the river in the sky, how it was a mirror of the Urubamba River, the river on earth, how the walls of Sacsayhuaman, seen from above, look like the Milky Way.
We head over to the walls, which are made of enormous stones fitted together without mortar. I step close to the wall, marveling at how the stones have been cut and fitted so perfectly--I could not stick even a pin between them. They are of all different shapes and sizes, some so huge (larger, in fact, than the stones in the Egyptian pyramids), that I wonder how the Incans could have moved them into place, much less cut them from a quarry miles away and hauled them to this hilltop!
The rest of the day is filled with other marvels: the Temple of the Water, shimmering in the sunlight; examples of pre-Incan architecture, less finished, less precise, than the Incan walls; a sacrificial spot, where the blood from the sacrificed animal runs down a snake-shaped trough in the rock; a tunnel through the rock, so dark that I have to rely only on my sense of touch to guide me, my fingertips feeling the rough walls, my feet moving cautiously along the uneven floor, the darkness pressing against my eyes until I close them to stop myself from trying to see.