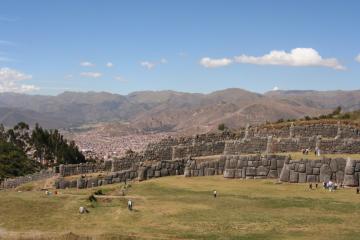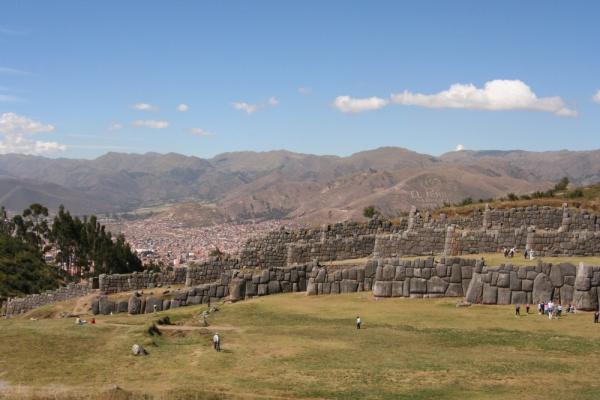 This morning, after a simple breakfast, I bid a fond farewell to my host family, and hike back down the hill to meet up with the rest of the group. We climb back on the little boat for the trip to Taquile Island, only an hour's ride across the blue water. We will hike around the entire island today, stopping here and there for short explanations from our guide, Roger.
We stop at a small house near the top of the hill. A woman is weaving colorful wool on a loom, while her husband stands knitting a hat. Roger tells us that if a young man is interested in a young woman, the first thing she will ask him is, 'How well do you knit?' If a man can knit a hat with a tight enough weave that a drop of water will roll down it rather than soak immediately through, he is, presumably, responsible enough to marry and have a family. What would American society be like if men proved their manhood by how well they knit rather than how well they drink beer/play basketball/drive a car? Hmm.
We continue our walk around the island. The sky is a bright blue above, with the water reflecting both sun and sky in a glitter of gold and blue, and flowers of all colors spill down the hillside--purple, pink, orange, yellow. Around lunchtime we reach the main plaza, at the very top of the island. I climb the stairs to a lookout on the roof of a large building, and can see into the blue horizon for miles. The far Bolivian mountains glimmer in the distance.
We eat a delicious lunch at one of the restaurants, sitting outdoors beneath an awning. A bold chicken struts arrogantly around our feet, looking for a handout, perhaps? After lunch, we make our way back to the boat for the return journey to Puno. We arrive in mid-afternoon, and, after returning to the hotel, I wander down to the Plaza de Armas to journal and watch twilight spill across the sky. I'm approached by a girl about my age, who asks if I've seen any internet cafes. Calle Lima is peppered with them, and I point out a couple from my vantage point on the Cathedral steps. Inge, who is from the Netherlands (and of course speaks flawless English), and I decide to meet for supper later that evening.