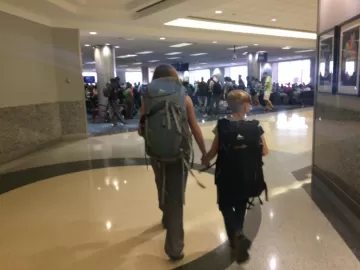 A few years ago my daughter, Gabs, asked if we could celebrate her High School graduation with a trip to Peru. Being the best dad in the world I told her, "We'll see...". Naturally, I caved to her request and the planning began.
Gabs, wanted to see and experience as much as possible and hit on some of Peru's most famous highlights. We decided to hike the classic Inca Trail, explore Machu Picchu and top it all off with a visit to Lake Titicaca. The plans were turning into a trip-of-a-lifetime, which got us thinking that we should have an open invitation for more to join in on the fun. Our group grew to include my daughter (Gabs), son (Samuel), parents (Jim & Sue), uncle (Bill) and mother-in-law (Jane). My youngest wasn't old enough to hike the Inca Trail, so she and my wife had their own adventure in Arizona.
The crew was set! "Let's go to Peru!"
Getting To Peru
This is my second expedition to Peru and there were some pluses and minuses getting there. I do love the built-in entertainment screens, but I had to tell my 10-year-old son to turn it off at 1:00 AM and get some sleep. T.V. screens are addicting. I will be very happy to have a reprieve on the Inca Trail.
The airline was pulling out all the stops and truly giving us the royal treatment. How did they know we wanted to spend an extra 5 hours in the Atlanta airport? As the airlines say, "Customers always come first!"
We made the best out of our layover and chatted about what's to come and had passed. I learned that my parent's neighbors just got back from their own trip to Peru. They did the Salkantay Trek and told my parents terrifying tales of exhaustion and altitude sickness. My mom was extremely anxious about hiking the Inca Trail and talking with her neighbors didn't help. She was hiking the biggest hills she could find in her MN hometown with weight-filled backpack in preparation and walking the golf courses instead of using the cart (both my mom and mother-in-law are avid golfers, they are both disgusted in my lack of golfing ability). The weekend before our departure the hiking boots she had been training in literally fell apart. The local shoe repair said it was best to replace her 20-year-old foot wear with something new.
Further in our conversation my mom reveals that prior to her neighbor's trek they spent a week in an Amazon-based "spiritual retreat", running around naked ingesting hallucinogenic drugs which resulted in continuous liquid expulsions from both ends. Thank goodness this is something Adventure Life would NEVER offer.
"Mom, you will be just fine on the Inca Trail," I said. "We didn't sign up for the worst way to lose 20 lbs package".