This morning we say goodbye to my mother-in-law, she has to return home earlier for some prescheduled arrangements.
We were warned about the lines for get on the buses to Machu Picchu, so we decide to rise early have our breakfast and head out.  Turns out we weren't early enough.  The line is an hour long, but we pass the time watching Samuel play with a tiny street dog with a limp leg.
Machu Picchu is busy already when we arrive.  Gabs and I had signed up to hike to the top of Wayna Picchu (the mountain in the background of the classic shot of the ruins).  But, we were done with hiking and decided to opt-out of another grueling climb.  Instead we decide to explore the ruins with the group and take some photos.  It is a tradition for me and my kids to do hand stands together for at least one picture during our travels, so we decided to do it at the ruins.  Shortly after kicking up into a our pose we hear a whistle blow, repeatedly.  Unbeknownst to us travelers are not allowed to do any kind of acrobatics at Machu Picchu from handstands to even a single jump up.  I find out that a few weeks prior to our arrival another traveler was attempting to take a selfie on a terrace on Wayna Picchu and took one step too far.  Sadly his fall was fatal, thus safety rules are of utmost importance at the ruins.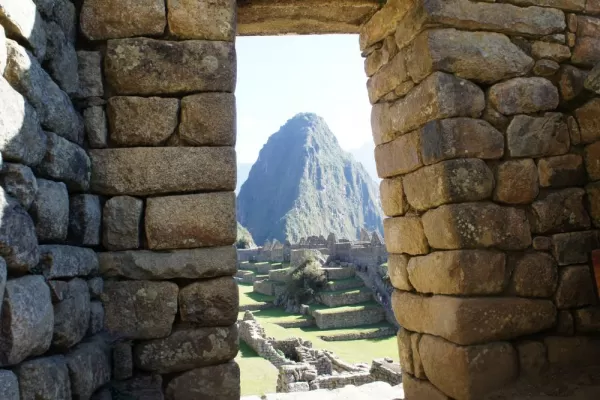 We wrapped up our guided tour of Machu Picchu and headed back down to Aguas Caliente (I think it's now called Machu Picchu Town).  We find a nice café where we wait until it's time to catch our train.  Gabs and I go and explore a local market while the rest relax.
The train ride followed the river back to Ollantaytambo, and if we were bored with the scenery the train crew kept us entertained.  They had a dance performance and fashion show -- naturally with the option to purchase the wares.  Samuel need other entertainment, so we played cards and did some magic tricks.  Earlier in our travels Boris taught Samuel how to turn his hands into a flute.  Samuel was able to teach me the same skill.
In Ollantaytambo we board a van that will take us back to Cusco, where we eat and re-pack for Lake Titicaca.