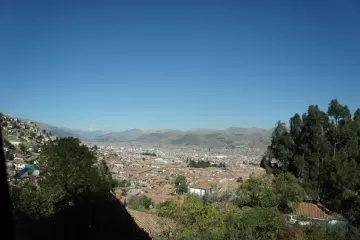 I'm used to flying over mountains as I land and take off from Missoula, MT, but flying into Cusco is something else. I watch our landing out the window of our airplane, it looks as though the wing could almost graze a mountain on our approach.
We depart the plane and collect our luggage then meet our guid Boris outside the airport exit. We take a 20 minute drive to our hotel passing through the hustle and bustle of this city. Boris explains to us why so many buildings are left "unfinished".
Cusco is a the perfect place to spend the next few days adjusting to the 11,000 foot altitude. The city has a population of 700,000, but doesn't overwhelm me as other major cities have.