This morning we have breakfast with a view of Salkantay mountain ablaze in the Sun's orange glow.  Bill and I ascend to try and capture the moment and we share our space with another traveler engaged in her yoga sun salutes.  I feel that the photographic memories we take are in vain, how can we capture the spirit of a mountain?
Before we head off to the final leg of our trek we thank our porters and cook for the service, comfort and delicious meals.  Their grace and gratitude is humbling.
The hike starts in a descend.  Gabs and Samuel are off to the races I try my best to keep up with them.  The Inca Trail is not completely level, taking careful steps is a great way to avoid injuries.  Even with cautious footing it is still possible to stumble, and today was the day.  Gabs and Samuel with their youthful speed and agility was no match for the rest of the crew.  My dad tweaked his knee, my mom had a small spill with some scraps and bruises.  Everything was manageable and even if it wasn't we have no choice, but to carry on.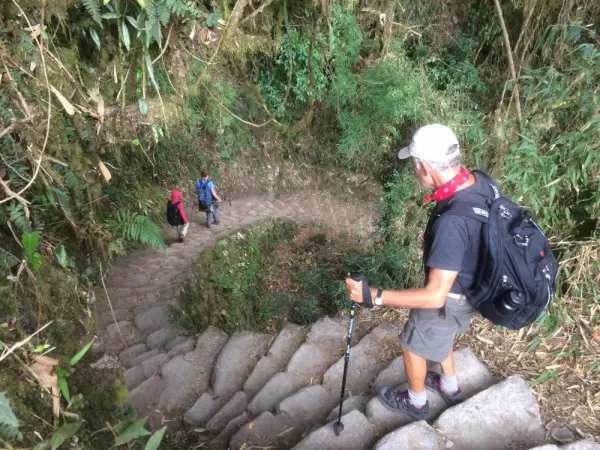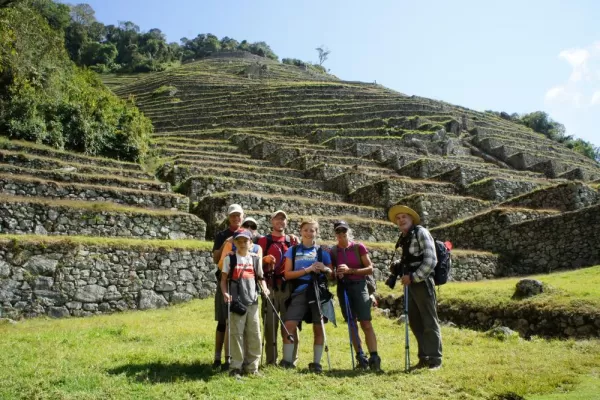 We are quickly approaching Machu Picchu and we can sense the excitement and relief.  Personally, I feel if you are going to truly experience Machu Picchu you should hike a path of the Inca.  Wether it's the classic Inca Trail, Cacchicata Trek or the Salkantay Trek, one should walk in the footsteps of the Inca before visiting the Machu Picchu ruins.  We are greeted by other travelers as we appear through the Sun Gate and astound them with the tales of our four-day hike.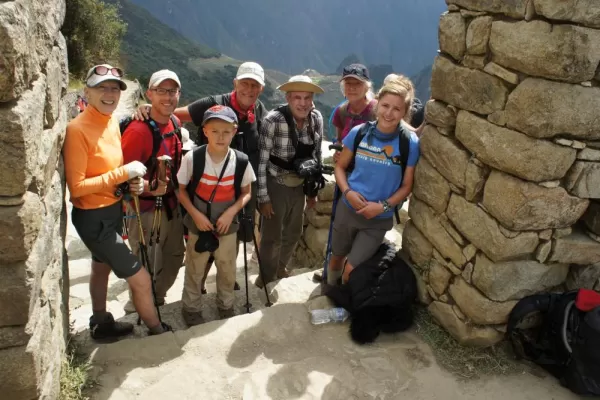 We hike to the ruins, but we save the exploration for tomorrow.