I wish I could say that I was well rested for today's hike, but last night was the start of a weekend-long wedding ceremony in the village we stayed at and the music never let up.  By 5:00 am I stop trying to sleep.  I wish I had brought ear plugs, UGH!  A little bit of good news is that I tested my oxygen level and heart rate and they are pretty close to normal (95% oxygen saturation and 65 bmp heart rate).  I must be acclimatizing.
As breakfast is being prepared we pack up our supplies and Samuel is off chasing chickens again.
All my mom's training has been preparing for today's hike.  As daunting as the name sounds "Dead Woman's Pass" is named for it's appearance of a woman laying down and not for it's difficult 4,100 foot elevation change.
My hiking poles are surrendered to Samuel for today's climb and he graciously offer's me his backpack.  My 69-year-old uncle is hiking the entire trail with 35 lbs of camera equipment, he refuses to burden anyone else with his gear -- so, I don't complain about the two day-packs I'm carrying.
Gabs is on a mission today, she lead the pack and never looked back.  Samuel took today one step at a time, and needed an oxygen break on our final ascend.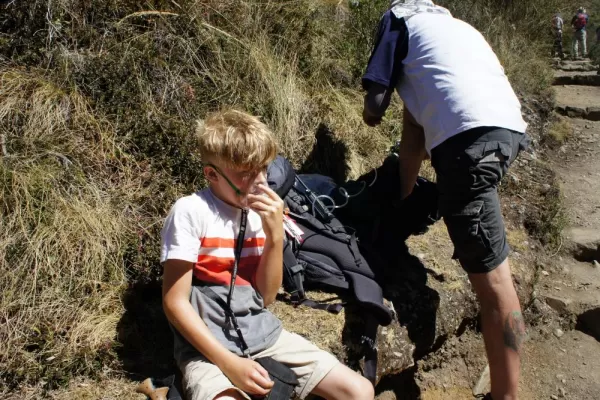 The pass was a huge accomplishment for everyone and the rest of the trail is all down hill from here, right...?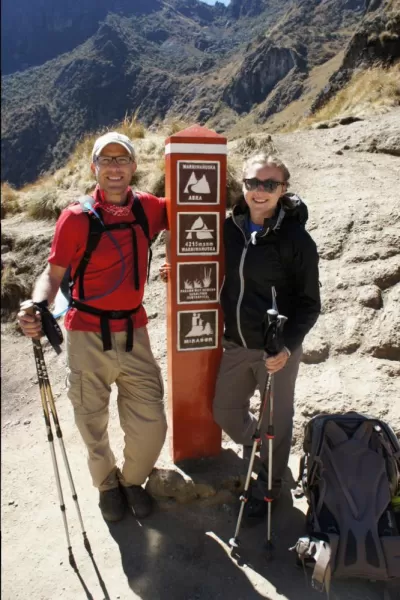 Our remaining hike for the day is a slow descend to our campsite.  At camp we play cards, take naps, take pictures, more naps and see the Milky Way unobstructed by any city's light pollution.