Yesterday we took a 9 hour bus ride to Puno.  There were several sightseeing stops, but ultimately it was a means to an end -- getting to Lake Titicaca.  After our long bus day we relaxed in the hotel.  The kids wanted to veg-out and watch some TV, the adults went to grab a bite to eat.
This morning everyone is exhausted, and unfortunately my mom was not in any shape for exploring -- we think it was what she ate last night.  That left my uncle, me and the kids to explore Lake Titicaca.
We met our guide for the day and headed over to the lake, where we are kayaking to the Uros Islands (one of the many floating islands made from piles of reeds).  The people there are very nice and welcoming.  Gabs and I both decide to purchase some handy-work.
Next we take a motor boat to Taquile Island.  We had the opportunity to do some more kayaking, but everyone is still tired from our last adventure that it was nice to just cruise on the boat.  On Taquile Island the locals were celebrating the Santa Domingo holiday.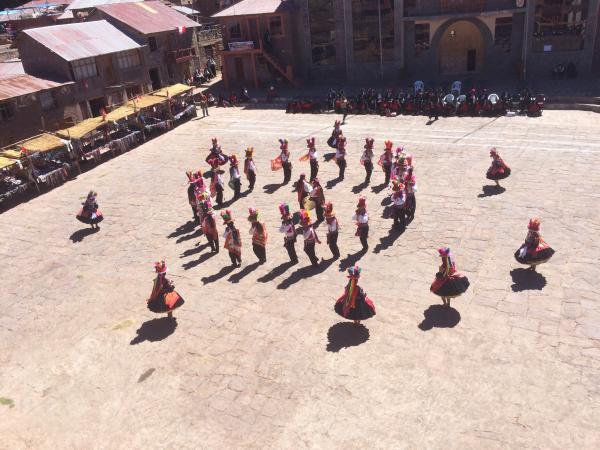 I learn that on the island everyone is required by law to wear the traditional clothing or pay a fine.  The locals continue with the tradition of knitting to this day and the men knit hats that are water tight.  I wish I had been prepared for the market, because their handy-work is surpassed by none.
We walk along the islands coast to where we have lunch.  My uncle compares the island landscape and view to that of the Greek Isles.
A motor boat ride back to Puno wraps up our day on Lake Titicaca.  We arrive back at the hotel to find my mom doing much better.  We decide to go out for dinner tonight, basic pizza.  Tomorrow, we journey back home.