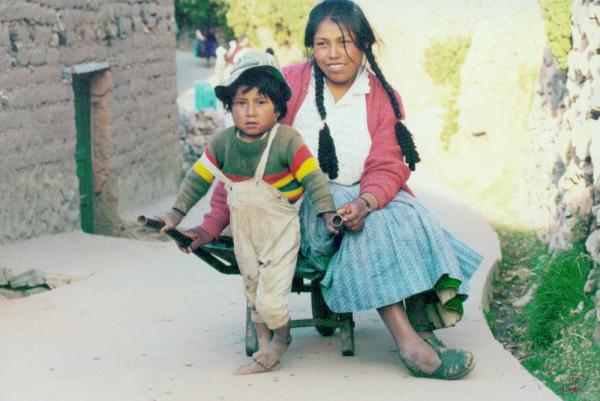 Breakfast at El Carmel was in a pleasant, cool nook, and we loaded up on eggs, hams, fruits and, of course, rich Peruvian coffee. I drank so much that I had the jitters on the plane to Juliaca (Lake Titicaca's closest airport). Juliaca is like an orange moon -- dunes and high mountains draped in a buttery, ruddy color. A local man was relieving himself when we got off the plane, Peruvians and tourists alike were snickering. I was oblivious, and commented to my brother, "It's beautiful here!" J.P. laughed about my comment with some of the locals, and I, blushing, went in search of our driver. He was patiently waiting for us at the other end of the airport.
I should say that I'm used to traveling on my own -- this felt luxurious to have someone waiting for us in each location, snatching up our backpacks with a friendly smile and ushering us onto our next adventure. Quite different from my first trip to Peru, in which my friend, Kristin, and I -- having no idea what we were doing -- floated brainlessly from one location to another, arranging accommodations as we went. That was more hectic and less relaxing than this vacation was turning out to be.
On our drive to Puno, on the shores of Lake Titicaca, we were stopped by the local police. They spoke in Spanish and accused our driver of not paying his "pass". Words were exchanged, the driver argued a bit, and then he offered the police a crumpled bill. They took it silently and waved us along. Thanks, guys.
Lake Titicaca sits on the shores of a small town called Puno. We stayed overnight at Quelqatani, a beautiful hotel with a great bar, and felt the effects of the 12,000 foot elevation sink in. By the time we walked to dinner, I was feeling winded and off-balance. "Like I'm drunk!" I told J.P. He was stoic at first, but then admitted over some delicious lomo saltado that he, too, was affected.
We were restless that night. A woman had severe altitude sickness in the room next to us. I saw her later, hooked up to an oxygen tank (all of our hotels at elevation have an oxygen tank). She moved very slowly, leaning against the tank, a very sickly robot.