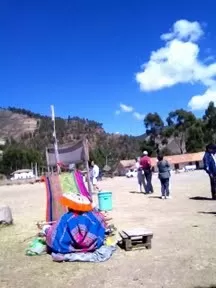 The main attraction in Copacabana side of lake Titicaca is Isla Del la Sol and Luna. We only had one more day in Copa and according to the owner at Cafe Bistrot last night, not many goes to Isla Del La Luna anymore. A special trip has to be arranged. So we went down to the marina and got 8:30AM return ferry tickets for 20 bolivianos (3 USD) to Isla Del La Sol only.
The ferry was again a very slow wooden boat with two motors on the back. Inside of the cabin was very fumey which I knew would cause sea sickness in no time. I climbed up to the top of the boat. It was very cold since I only had a shirt and hoodie on. But it was better than vomiting before a long trek.
We arrived at north side of the island aka Challapampa just before 11am and started our five hour trek to the south side of the island, Yumani. We were not sure where to go since there are no signs, just an island map back at the port. Best thing to do in this case is to follow the crowd.
We took the interior trail since we heard was easier. The trail was really straight forward once we figured out the starting point. We were also charged 10 bolivianos (1.4 USD) per person before entering the trail for the ruins at the very north tip of the island.
The ruins of the Inka village were interesting (it is no Machu Picchu though) overlooking Lake Titcaca. Properties like that would cost millions in Vanouver! :p
The trail was definitely was not as hard as Wayna Picchu and Amanati temple. It was just much longer. We encountered about 4 small to medium hilly inclines. The rest of the way was fairly flat and incredibly scenic. There were white sandy beaches with deep blue and green water.
There were little huts that sold water, pop, chocolate bars and other goodies along the way, but many pack their own lunches for the trek. Small water costed 5 bolivianos (0.70 USD). There was also the option to stay overnight on the island at many of the hostels. Since we had already experienced island stay on Amanati, we wanted to catch the 3:30PM ferry back to Copacabana.
We had pay two more times along the trail at 5 bolivianos each.
Our decent down to Yumani port was again a confusing one. There were no signs, just restaurants after restaurants. After a few windy roads, we encountered a herd of donkeys and ended up exiting what appeared to be a donkey den.
Oh well, the important thing was we made down in time at around 3:15PM, just in time for the ferry back.
*******link to original post*******
http://rubyroads.blogspot.com/2011/09/isla-del-la-sol-day-10.html