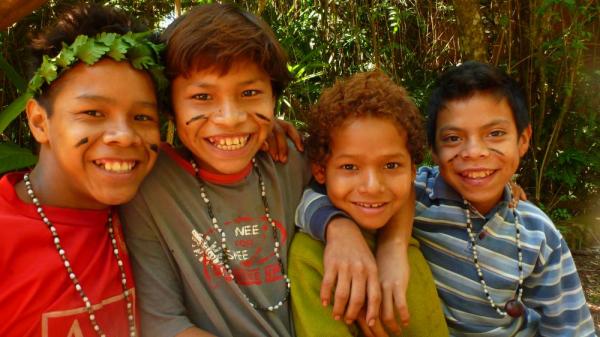 Adventure Life,
Yacutinga Lodge
and Kallpa T.O. (our local
Argentina travel
partner) have come together to fund and facilitate a series of environmental education workshops for the Guarani Community Kagui Pora from Argentina's Comandante Andresito. The workshops are specifically designed for the children of the Kagui Pora Community. The curriculum is fun, hands-on and addresses the environmental issues facing the Paranaense Forest and the Guarani's home. Overcome by agriculture and urban development, only 10% of the original Paranaense Forest exists today. Topics include deforestation and the consequent loss of biodiversity, as well as waste management and water conservation. The classes will also discuss the affects that such actions have on the indigenous communities' traditions and future. The goal of the program is to have the children complete the workshop with new enthusiasm and understanding about protecting their environment and their home. An annual event, the workshop lasts four days. It directly impacts 140 students from the Kagui Pora Community and -- we aspire -- indirectly thousands more.
For pictures and more information "La Gurisada y el Monte"
click here
.
About the Adventure Life Grant
Adventure Life's community grants
provide funding for grassroots projects. These are small, independent programs without a voice or a source of funding outside their often rural locals. Over the years, our grants have funded reforestation projects, youth festivals and education, operations at a women's shelter, a school science lab, reconstruction of buildings, village irrigation systems, sanitation systems, and a conservation of traditional handicraft techniques.
Learn more.